Interest

Nintendo 3DS Program Lets You Create Your Own Manga

posted on by Eric Stimson
New 3DS software allows users to create manga with panels, screentones, multiple layers, and more
---
Collavier has developed a new downloadable software for the Nintendo 3DS that lets you draw your own manga. Not just sketches and doodles with speech bubbles, either — this lets you mimic professional manga with screentones, multiple layers, and precise panel layouts.

Comic Koubou ("Comic Workshop") allows you to choose your panel layout and alter it as you work. A tab lets you create multiple layers for your work and choose the order in which they are added. Colors can be added using the basic provided colors or modified using a rainbow "color picker." There are numerous tools to make the drawing process easier: a speech bubble button that lets you choose from several common varieties of bubbles, a gradation button that lets you blur colors to various degrees, a font button that lets you change size and direction (since Japanese can be displayed vertically and horizontally), buttons to adjust pen thickness, erase lines, and add straight lines, buttons to let you add shapes and sound effects to the background, and a button that lets you add and modify black-and-white photographs.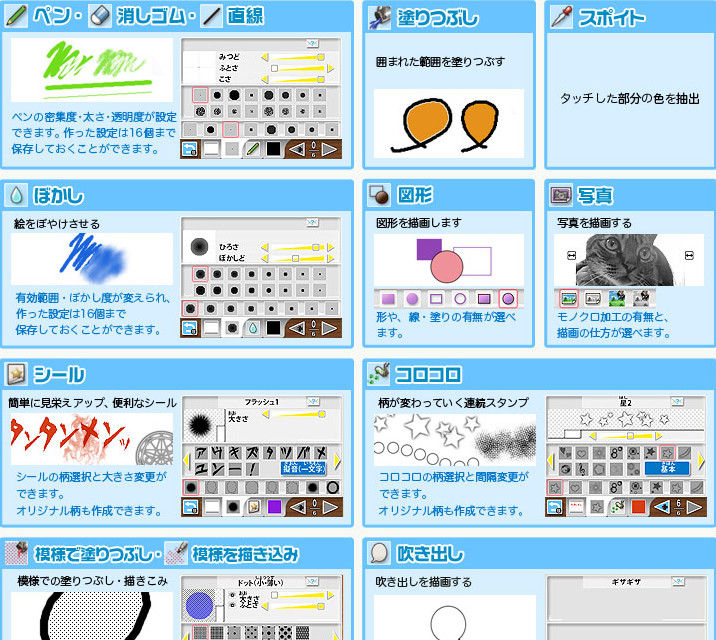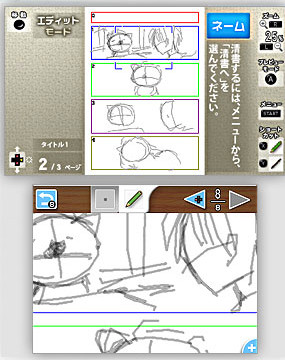 There are different modes for rough drafts and clean copies.
80 pages may be saved for each file, and 80 files may be saved, meaning a total of 6,400 pages can be saved. It will also be possible to transfer images to cameras and computers as JPEG files. They will not be available to exchange directly between 3DSes "from the perspective of protecting minors."

Comic Koubou will be available in Japan on January 15 for 800 yen (or about $7.63).


---