×
remind me tomorrow
remind me next week
never remind me
Subscribe to the ANN Newsletter • Wake up every Sunday to a curated list of ANN's most interesting posts of the week.
read more
Interview: Fate/Grand Order Game Director Yosuke Shiokawa and Voice Actress Ayako Kawasumi
by Gabriella Ekens,

At nearly every major anime convention these days your eyeballs will be greeted by massive, city-carpeting advertisements for Aniplex's massive Fate/Grand Order mobile game, which launched in 2015 in Japan and only just last year in English, and has since amassed legions of dedicated American players. Aniplex graciously invited us to speak once more with game director Yōsuke Shiokawa and voice actress Ayako Kawasumi (Altria Pendragon) about the past year of Fate/Grand Order.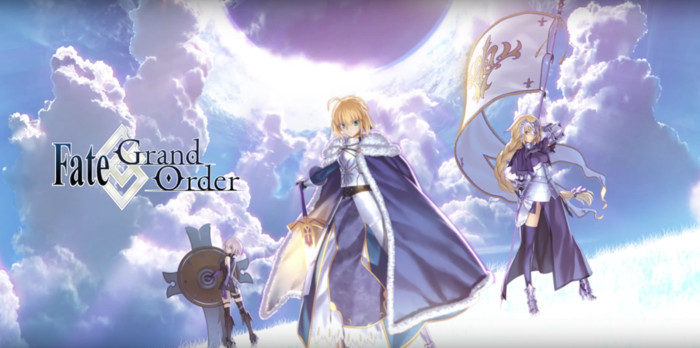 ANN: Mr. Shiokawa, how much involvement do you personally have with the English release of FGO?
Shiokawa: Since I am part of development along with the team at Delightworks, I am fully involved. However, on a personal level, I do more "guiding" than anything else.
What were your expectations for FGO English in its first year? Has it lived up to those expectations?
Shiokawa: Last year at AX, right after the launch we came here and not many people knew about the game. A lot of the fans mentioned that, "oh yeah, I play the Japanese version," or "I watched the anime," but the English version wasn't known at all. But now, after a year, I can see that FGO is being recognized.
For Mrs. Kawasumi, is there any side of Altria that you feel hasn't been expressed yet? If you could design a version of Altria, what would you choose?
Kawasumi: Fortunately for me, every year, with every season, a new Altria is presented to everyone. Every single time this happens I get together with the staff, and they go, "okay, this is what we're going to do, how do you guys feel?" One of the more challenging ones was when they were going to be in swimsuits. The thing is, however, that Altria is already set in me, so now it's about which part of Altria that I'm going to be showing.

With so many characters, FGO recruits an immense number of voice actors. Can you tell us a bit about how voice actors are recruited and selected in creating a character?
Shiokawa: Each servant has their own writer, and that writer gets to determine which type of voice would be best match that character. From there, we give offers to people with similar voices."
Can you tell us a bit about the writing process for FGO? For example, in, say, the Camelot singularity, is the person responsible for creating Arash the one who writes all of his lines in that scenario? Or is it the general scenario writer?
Shiokawa: So each scenario will have its own writer, and the individual character writers, while they won't be directly involved, they will watch and make sure that they are acting in character.
Were there any events, servants, or singularities that proved unexpectedly popular with English players?
Shiokawa: Everything is as if it were planned. Everything is the same.
Not even a different response to anything?
Shiokawa: No. It's exactly the same response. We were surprised too.

Have you noticed more cosplay for Fate/Grand Order this year? Because I certainly have.
Kawasumi: What's surprising to me is that I've seen many different types of Altrias, but not the regular Altria.
Both Fate/Apocrypha and Fate/Extra Last Encore have come out in the last year. Have you noticed any boost in the English player base corresponding to these releases?
Shiokawa: I don't see a direct correlation with "animation comes out, more users in." However, the love and adoration for certain characters becomes more predominant. For example, the moment Astolfo debuted in Fate/Apocrypha, more people in the United States started to love him, and his popularity has definitely increased.

We receive servant buffs pretty frequently in the game now. How do you decide whether certain servants need to be buffed?
Shiokawa: All servants have a specific role, with some stronger or weaker in terms of abilities. So when we notice that a specific character's role may be ambiguous, then we will give them a little boost. Ultimately, it's less about "strengthening" then making sure that they have a purpose.
To conclude, is there anything that you look forward to English players experiencing in the future?
Shiokawa: Babylonia. That singularity was experienced by the Chinese server already, and they were very excited by it. We hope that you will look forward to it too.
I will. Thank you.
---
discuss this in the forum (10 posts)
|