News

Gatchaman, Nils Director Hisayuki Toriumi Passes Away

posted on by Egan Loo
---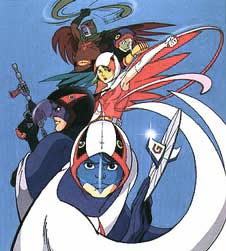 Veteran anime director Hisayuki Toriumi passed away on Friday. He was 67. His funeral service will be held on Monday at noon in Tokyo's Hachioji City. He leaves behind his wife Hiroko.
Toriumi is best remembered in Japan for directing four different Gatchaman (Battle of the Planets/G-Force) projects, The Wonderful Adventures of Nils television series and film, and the Shima Shima Tora no Shimajirou television series. Overseas fans may also know his work in Area 88, Dallos, The Mysterious Cities of Gold, Speed Racer, and Uchuu no Kishi Tekkaman.
Toriumi was born in the Japanese prefecture of Kanagawa south of Tokyo in 1941. After taking an interest in filmmaking, he went to a storywriting institute during college and then joined Tatsunoko Production in 1966. He would get involved in many of Tatsunoko's classics from that era, including Gatchaman, Tekkaman, and Polymar. He eventually became a freelancer, worked at Nippon Sunrise (now Sunrise), and later contributed at Studio Pierrot during its founding years.
Toriumi became a mentor to Mamoru Oshii, particularly while they worked together on Dallos, the world's first original video anime. He was still active as recently as 1994, when he directed Shima Shima Tora no Shimajirou. Since the 1980s, he has also been a prolific novelist with nearly two dozen volumes to his credit.
Filmography
Anime V Comic Rentaman (OAV): Director 
Area 88 (OAV): Director 
BAOH (OAV): Supervisor In Chief 
Baribari Densetsu (movie): Supervision 
Dallos (OAV): Screenplay , Original story 
Dallos Special (OAV): Screenplay , Original creator 
Gatchaman (TV): Chief Director , Technical director 
Gowapper 5 Godam (TV): Series director 
Hurricane Polymar (TV): Episode Director 
Kagaku Ninja-Tai Gatchaman (movie): Director 
Kagaku Ninja-Tai Gatchaman F (TV): Chief Director 
Kagaku Ninja-Tai Gatchaman II (TV): Chief Director 
Kaze no Yojimbo (TV): Story Advisor 
Kurenai Sanshiro (TV): Episode Director 
Like the Clouds, Like the Wind (special): Director 
Lily C.A.T. (movie): Director , Original story 
Michitekuru Toki no Mukō ni (special): Director , Screenplay 
The Mysterious Cities of Gold (TV): Episode Director , Supervisor In Chief 
Oraa Guzura Dado (TV): Episode Director 
Salamander (OAV): Director 
Sohryuden - Legend of the Dragon Kings (OAV): Director 
Speed Racer (TV): Episode Director 
Uchuu no Kishi Tekkaman (TV): Chief Director 
The Wonderful Adventures of Nils (movie): Chief Director , Storyboard 
The Wonderful Adventures of Nils (TV): Chief Director , Director 
Yumemakura Baku Twilight Gekijou (OAV): Coordinator (eps 1, 2) 
Source:
Yomiuri Shimbun
---