News

Report: Domestic/Int'l Animation Market in Japan Grew 1.6% in '09

posted on by Egan Loo
Market for domestic, foreign works grew in theaters, subscription TV, BD sales
---

The Animation Market Analysis Project of Japan's Media Development Research Institute (MDRI) reported on August 9 that the market for domestic and foreign animation in Japan grew 1.6% to 216.4 billion yen (about US$2.52 billion) in 2009. The same research firm had reported that the market peaked at 241.5 billion yen (US$2.53 billion) in 2006, before dipping to 230.2 billion yen (US$2.41 billion) in 2007 and again to 212.9 billion yen (US$2.26 billion) — a 7.5% drop — in 2008. (Due to the fluctuating currency exchange rate, the increase in 2009 appears higher in U.S. dollars than in the original yen.)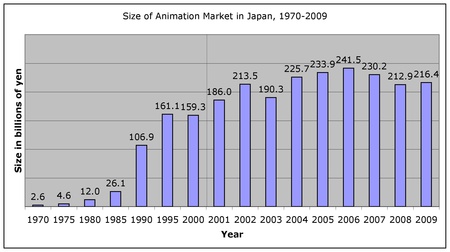 * Data before 2000 is listed in 5-year intervals.

These figures cover both Japanese animated works and foreign animated works that are sold or distributed within Japan. The results include theatrical films, home video sales and rentals, television animation, and online distribution via computers, Internet Protocol Television, and mobile phones.
MDRI noted that mainstay children's franchises such as Pokémon, Detective Conan (Case Closed), and Doraemon performed at the box office, while Evangelion: 2.0 You Can [Not] Advance (Evangelion Shin Gekijōban: Ha) and Summer Wars played to wider age ranges. After slumping in 2008, foreign animated films had four titles that earned over 1 billion yen (US$11 million) in Japan in 2009, with Wall-E leading the way with 4 billion yen (US$43 million). (Wall-E opened in Japan in December of 2008, so most of its box office receipts were tallied toward 2009.)
According to MDRI, the number of animated television programs increased compared to the previous year, but monetary investments from sponsors for these programs dropped. On the other hand, the audiences for animation channels on satellite and cable television grew. According to data released at the end of 2009, about 8.3 million households subscribed to the Animax channel, making it the top channel in subscriptions overall.
Home video sales dipped compared to the previous year, but Blu-ray Disc sales jumped. Over half of the retail Blu-ray market was devoted to Japanese animation for young adults and adults. By contrast, the amount of money spent on the rental market dropped.
The broadband market sector, primarily represented by computer streaming, leveled off, while demand for animation on cable television and Internet Protocol Television's on-demand services grew. Mobile streaming is a small but growing market sector.
Teikoku Databank is another organization that reported on the state of the animation industry in Japan in 2009. However, Teikoku Databank calculated its figures from the revenues that domestic production companies and studios receive. By contrast, MRI calculates its figures from box office totals, DVD sales, and other statistics at the consumer and retail levels for both domestic and foreign works released in Japan.
Source: AnimeAnime.biz
---