News

Do As Infinity Concert to Be Partly Streamed Thursday

posted on by Egan Loo
---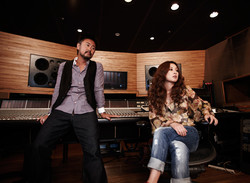 The website Nico Nico Douga will stream part of a Do as Infinity concert for free on Thursday, December 30 at 8:00 p.m. Japan Time (6:00 a.m. EDT). (The concert, the first of two to ring in the new year, is itself is slated to start at 7:00 p.m.)
The pop music group Do as Infinity performed the "Fukai Mori" and "Shinjitsu no Uta" ending theme songs for the first Inuyasha television anime series, and they also can be heard in Vampire Hunter D: Bloodlust and Zoids Genesis. The members announced in 2008 that they were reuniting on the band's ninth anniversary, and they recorded the "Kimi ga Inai Mirai" opening theme song for the television sequel InuYasha: The Final Act last year.
The tickets for the concert at Tokyo's Shinagawa Stellar Ball had already sold out. Although the streaming will be free, Nico Nico requires viewers to first register in Japanese. The concert will feature the group's signature songs as well as new tracks from the January 19 album, Eight. Nico Nico also indicates that there will be a surprise announcement during the live streaming. The website streamed an earlier Do as Infinity concert in September.
Source: Natalie via Tokyograph
Image © 2010 avex marketing Inc.
---
follow-up of
Do As Infinity Concert Streamed for Free on Wednesday