News

Kono Danshi, Uchū-jin to Tatakaemasu. Anime's Trailer Posted

posted on by Egan Loo
21-year-old auteur director
Soubi Yamamoto
creates alien invasion/teen story
---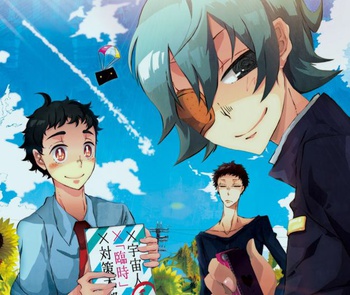 The official website for auteur director Soubi Yamamoto's Kono Danshi, Uchū-jin to Tatakaemasu. (This Boy Can Fight the Aliens.) anime has begun streaming the first trailer on Wednesday. In the 21-year-old writer/director's story, aliens suddenly invade the world, and a boy named Kakashi stands alone with the power to fight back against the aliens — except he lost his memories.
The anime stars Ryohei Kimura (Eden of the East, Natsume Yūjin-Chō) as Kakashi, Toshiyuki Toyonaga (Katekyo Hitman Reborn!, Durarara!!) as an anti-alien forces member named Arikawa, and Daisuke Hirakawa (Gankutsuou: The Count of Monte Cristo, School Days) as Arikawa's superior and Kakashi's guardian Shiro. The project features a theme song by Akiko Shikata (A Dark Rabbit Has Seven Lives, Umineko no Naku Koro ni), whom Yamamoto requested personally to work on the project.
CoMix Wave Films, the company which released many of Makoto Shinkai's works that inspired Yamamoto when she was still in middle school, will release the DVD for Kono Danshi, Uchū-jin to Tatakaemasu. in November. The character store chain Animate is also hosting a special point card campaign starting on September 20 for the anime.
Before Kono Danshi, Uchū-jin to Tatakaemasu, Yamamoto directed the opening sequences and promotional videos for boys-love dōjin games and the iPhone app Rōdoku Shōjo.
[Via Moon Phase]
Image © Soubi Yamamoto/CoMix Wave Films
---