News

Sengoku Paradise Mobile Game Community Gets TV Anime

posted on by Egan Loo
Site for female players with handsome figures in Japanese history
---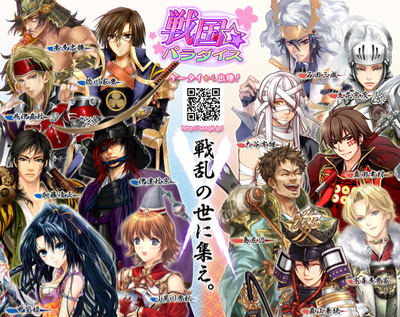 The official website for Sengoku Paradise, a mobile game and community inspired by Japan's historical
Sengoku
heroes,
revealed
that a television anime version will premiere on October 3. Sengoku Paradise Kiwami will air on TV Tokyo every Monday at 27:15 (effectively every Tuesday at 3:15 a.m.)
The service is aimed at female players and has
ikemen
(handsome male) versions of
sengoku
heroes fighting for the players. After registering for free, players can create and expand their own domain. Players can interact with each other with the built-in community features and swap text stories, diary entries, and illustrations.

Koji Haneda (animation director on Bakuman. season 1, Gantz) designed the characters in the anime. The cast is as follows:
Shōhei Kajikawa as Ii Naomasa
Daisuke Namikawa as Ishida Mitsunari
Taiki Hori as Ukita Hideie
Taishi Murata as Ōtani Yoshitsugu
Rei Mochizuki as Kaihime
Kanehira Yamamoto as Katō Kiyomasa
Asami Imai as Kobayakawa Hideaki
Takuya Eguchi as Sanada Yukimura
Yoshihisa Kawahara as Shima Sakon
Sōma Saitō as Tachibana Muneshige
Tetsuya Kakihara as Date Masamune
Wataru Hatano as Tokugawa Ieyasu
Daichi Kanbara as Naoe Kanetsugu
Naoki Sagawa as Honda Tadakatsu
Jun'ichi Yanagida as New General 1
Ryota Ohsaka as New General 2
Update:
More information added.
[Historical Japanese names are listed family name first, while modern names are listed family name last.]

Images © G-mode
---