News

More Screening Details for Ninja Scroll (Updated)

posted on by Andrew Osmond
---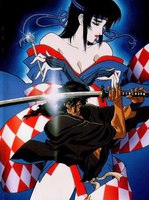 On its twitter feed, Manga Entertainment has confirmed more details of the limited cinema release of Yoshiaki Kawajiri's classic anime action film Ninja Scroll in November. The following screenings are confirmed:
ICA (London) - 8.45 p.m., Friday November 23
Cinema City, Norwich - 2.45 p.m., Sunday November 25
Exeter Picturehouse - 8.45 p.m., Monday November 26
Picturehouse at FACT, Liverpool - 9 p.m., Monday November 26
Cameo Picturehouse, Edinburgh - 8.50 p.m., Monday November 26
Greenwich Picturehouse - 9 p.m., Thursday November 29
Manga says more screening locations will be confirmed soon. Update - Manga also confirmed to ANN that all these screenings would be subtitled.
Before these screenings, there will be a special showing of the film at the Hackney Picturehouse Cinema on Friday November 16 at 9 p.m. (tickets here or call the box-office at 0871 902 5734). The ticket includes admission to the movie, an advance copy of the standard edition Blu-ray and a limited edition, signed and numbered variant Ninja Scroll movie poster by British illustrator Sam Gilbey (Call of Duty, Scott Pilgrim).
One ticket holder will also win a £500 bundle of Manga Entertainment boxsets and blu-rays.
The film will also be released in DVD, Blu-ray and steelbook formats on Monday November 26.
---