News

K-On and Hellsing Ultimate Released Monday

posted on by Andrew Osmond
---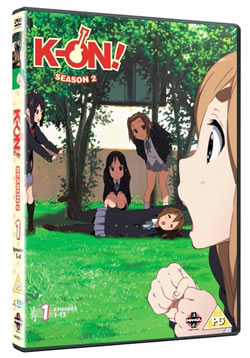 On Monday May 20, Manga Entertainment will release the first part of K-ON! Season 2,

(pictured right) featuring the first 13 episodes of the season. Based on kakifly's four-panel comedy manga about high school girls who form a rock band, the second series premiered in Japan in April 2010. In the series, the Sakuragaoka Girl's High School's Light Music Club faces the graduation of four of its members at the end of the school year.
Manga Entertainment will also release parts 5 to 8 of Hellsing Ultimate on both DVD and Blu-ray (pictured left), based on the horror/action manga by Kouta Hirano. The main character is Alucard, a powerful vampire who exterminates other vampires in the service of the British Empire, alongside Seras, a fledgling vampire and former police woman. This edition will feature episode commentaries, two 45-minute featurettes, and a Hellsing Panel from Anime Vegas.

MVM is releasing Majikoi - Oh! Samurai Girls!, inspired by an adult visual novel by MinatoSoft. The 12-part television anime series is directed by Keitaro Motonaga (Katanagatari, School Days). The modern-day story follows Yamato Nanoe, a boy who goes to a school that maintains the old samurai traditions, hand-weapon battles and all. Yamato's school samurai band of three girls and four boys is thrown out of balance with the addition of two more girls.
---