News

Tomokazu Seki Leads Assassination Classroom Anime Cast

posted on by Sarah Nelkin
---
This year's 44th issue of Shueisha's Weekly Shonen Jump magazine is announcing the main voice cast for the event anime adaptation of Yusei Matsui's Ansatsu Kyoshitsu (Assassination Classroom) manga on Monday:

Tomokazu Seki as Korosensei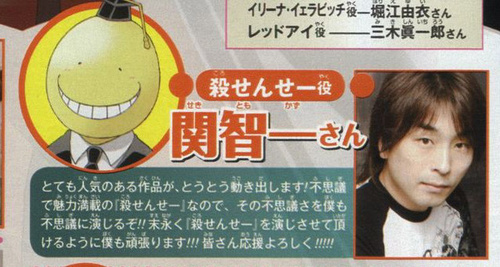 Nao Toyama as Nagisa Shiota

Ayana Taketatsu as Kaede Kayano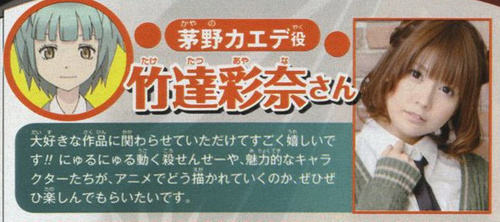 Nobuhiko Okamoto as Karma Akabane

Yūtarō Honjō as Tomohito Sugino
Rina Satou as Yukiko Kanzaki
Junichi Suwabe as Tadaomi Karasuma
Yui Horie as Elena Jelavić
Shinichiro Miki as Red Eye
The story of the original manga begins after 70% of the moon was suddenly vaporized in an explosion. The super lifeform responsible for this catastrophe is a strange tentacled creature that can slink around at supersonic Mach 20 speeds. It has a 10 billion yen (US$100 million) price on its head, but for some reason, this creature ends up teaching a middle school class at the beginning of the school year. The students have until graduation to assassinate the teacher, or it will destroy Earth as well.

The event anime special will adapt the original manga's popular segment about the field trip to ancient Kyoto.
The Jump Super Anime Tour 2013 event will exclusively screen the anime. The event is returning for the first time in over two years as it travels to five cities throughout Japan from October 6 to November 24. In addition to the exclusive Assassination Classroom anime, it will also preview the latest footage from SHAFT and Akiyuki Shinbo's upcoming Nisekoi anime, show an original Kuroko's Basketball anime before this fall's second season, and screen an exclusive original Naruto Shippūden anime story.
Matsui (Neuro - Supernatural Detective) launched the Assassination Classroom manga in Weekly Shonen Jump last July. The first volume's initial print run was 300,000, but it has had several reprints since then, bumping its print run up to 1 million. The sixth volume will have a first printing of over 1 million on October 4.
[Via Yaraon!]
---