News

Sengoku Basara 4 Game Gets Manga Adaptation

posted on

2013-11-01

19:30 EDT
Motoki Yoshihara to launch new manga in Dengeki Maoh magazine in December
---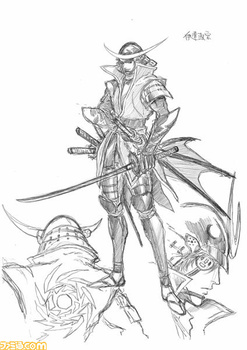 Japanese video game news website Famitsu revealed on Friday that the Sengoku Basara 4 PlayStation 3 game is getting a manga adaptation. Motoki Yoshihara will launch the manga in the February 2014 issue of Kadokawa's Dengeki Maoh magazine on December 27. Yoshihara will also publish a one-shot chapter in the February 2014 issue of Shueisha's Jump Square magazine on January 4.
The serialized manga in Dengeki Maoh will center on Date Masamune. The manga will also feature Ishida Mitsunari, Shima Sakon, Shibata Katsuie, and others as it tells the story of how these characters will "create" a new country.
Famitsu has posted three character design images from the new manga.
The Sengoku Basara 4 game will ship on January 23 for 6,990 yen (about US$71) including tax. There will also be a limited-edition Sengoku Basara 4 Hyakka Ryōran Tamatebako set with the game, book, storyboard collection, interchangeable disc jacket, and custom theme for 8,790 yen (US$89). T.M. Revolution will perform the game's opening theme and girl band SCANDAL will perform the ending theme.
CAPCOM's Sengoku Basara games have sold 3.2 million copies since 2005. They inspired the Sengoku Basara: Samurai Kings, Sengoku Basara: Samurai Kings 2, and Sengoku Basara - Samurai Kings: The Movie anime adaptations. A live-action series starring GACKT premiered last year, and spawned two compilation films in December. The games also inspired a stage musical adaptation from the famous all-female Takarazuka Revue Company that ran from June 15 to July 1.
Udon Entertainment has released the two-volume Sengoku Basara: Samurai Legends manga and one volume of the Devil Kings Basara manga in North America.
[Via Raindrops and Daydreams]
---