News

MVM 2014 Schedule (Updated)

posted on by Andrew Osmond
---
MVM has announced the following release dates in 2014 on the anime-on-line website.
January 13: Nisemonogatari Part 2 on Blu-ray and DVD

January 20: Is This a Zombie? of the Dead Collection, pictured right.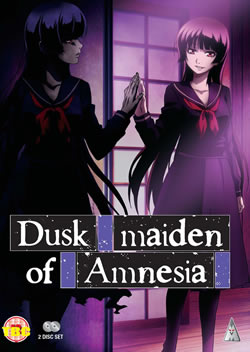 February 3: Hakuoki Season 1: Demon of the Fleeting Blossom Collection
February 10: Dusk Maiden of Amnesia Complete Collection, pictured left.
February 17: Infinite Stratos Complete Collection
March 3: Hakuoki Season 2: Record of the Jade Blood Collection
March 10: Night Raid 1931 Collection March 10
March 17: BTOOOM! Complete Collection
April 7: Hakuoki Season 3: Dawn of the Shinsengumi Collection

April 14: Girls Und Panzer Complete Collection, pictured right. MVM tweeted that it will look into releasing a Blu-ray edition of this series, though "We're not promising anything."

April 28: Fate/Zero Part 1. This will be released in standard and Collector's editions, each available on DVD and Blu-ray - i.e. there will be four editions in total. The Collector's Blu-ray edition is pictured left. MVM tweeted that "More details on what the collector's edition of Fate/Zero will be announced early next year."
May 5: Sankarea Collection
May 12: Hakuoki OVA: A Memory of Snow Flowers Collection
May 26: Fate/Zero Part 2. This will be released in DVD and Blu-ray editions. There is no Collector's edition listed for Part 2 on the anime-on-line site at present, but MVM tweeted that it plans to release one.
June 2: Ikki Tousen: Great Guardians Complete Collection
Update - More details added.
---