News

Senran Kagura 2 -Shinku- Briefly Listed by Event

posted on by Lynzee Loveridge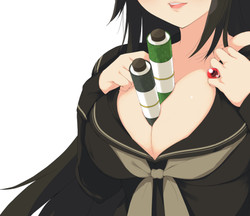 The program description for the live-streamed "Senran Kagura Bakunyū Hyper Happyōkai 2014 Deka Mori Pai School" event briefly listed a Senran Kagura 2 -Shinku- (Senran Kagura 2 -Crimson-) game.
The event's description listed the prizes that the producers are giving away in a random drawing to contributors, including three copies of the earlier Senran Kagura Burst (Senran Kagura Burst -Guren no Shōjo-tachi-) game for Nintendo 3DS with its pre-order bonuses. According to the listing, the bonuses include the save data link so "please be sure to play until Senran Kagura 2 -Shinku- goes on sale!" The event's description has since been edited to remove the mention of "Senran Kagura 2 -Shinku-."
Marvelous AQL opened a teaser site for Senran Kagura's 2014 announcements on Thursday. Game producer Kenichirō Takaki and Marvelous AQL president Shuichi Motoda will talk about what will come next in the franchise during a livestream on niconico on January 8. They will be joined by series voice actresses Hitomi Harada and Eri Kitamura, as well as other guests.
[Via Hachima Kikō]
---