News

KenIchi the Mightiest Disciple OVAs' TV Airing Promo Streamed

posted on

2014-03-19

08:10 EDT by Sarah Nelkin
Kenichi voice actor Tomokazu Seki performs "Higher Ground" opening for April 9 broadcast
---
Kadokawa began streaming a promotional video for the television broadcast of the KenIchi the Mightiest Disciple original video anime (OVA) project on Wednesday. Tomokazu Seki voices protagonist Kenichi Shirahama in the video, who tells viewers that disciple #1 has returned. The video features the TV broadcast's opening theme song "Higher Ground" sung by Tomokazu Seki.
The OVA's latest episodes were bundled with the 55th volume of Shun Matsuena's Shijō Saikyō no Deshi Kenichi (KenIchi the Mightiest Disciple) manga on February 18. The OVA disc contains two separate episodes, "Guard Shita no Hakaigami" (The God of Destruction Under Guard) and "Tokumei Kibou 18-sai" (Wanting a Pseudonym at 18-Years Old), which serve as episodes eight and nine in the OVA series.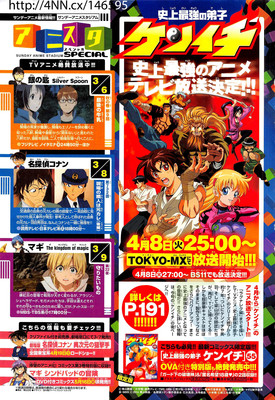 Five original video anime volumes (with a collected seven episodes) were previously bundled with manga volumes since last year. The fifth original video anime volume (with episodes 6 and 7) shipped with the 54th manga volume on November 15. The manga already inspired a television anime series that Funimation released in North America.
The OVAs' broadcast will premiere on Tokyo MX on April 9 at 1:00 a.m.
---