News

3rd Sengoku Basara Season's Staff, Designs, Episode Count Unveiled

posted on by Crystalyn Hodgkins
---
The official website for Sengoku Basara Judge End, the third anime season inspired by CAPCOM's Sengoku Basara game franchise, revealed the show's main staff on Wednesday along with a key visual and character designs.

Takashi Sano (animation director for Lupin III: Crisis in Tokyo, episode director for Blood+ and Blassreiter) is directing the series. Natsuko Takahashi (Moyashimon, Nura: Rise of the Yokai Clan, Tokyo Magnitude 8.0) is handling the series composition. Michinori Chiba (Basilisk, Mobile Suit Gundam 00, Gundam AGE) is handling the character designs, and Yumenosuke Tokuda (Naruto Shippuden) and Toshimitsu Kobayashi (Spice and Wolf II, Senran Kagura, Fate/stay night) are serving as chief animation directors.
Other staff members include:
Art Director: Daisuke Jinba
Color Key: Masumi Ootsuka
Sound Director: Yoshikazu Iwanami
CAPCOM's Hiroyuki Kobayashi and Makoto Yamamoto are credited with original concept supervision, and Telecom Animation Film is producing the animation.
Returning cast members include:
Kazuya Nakai as Date Masamune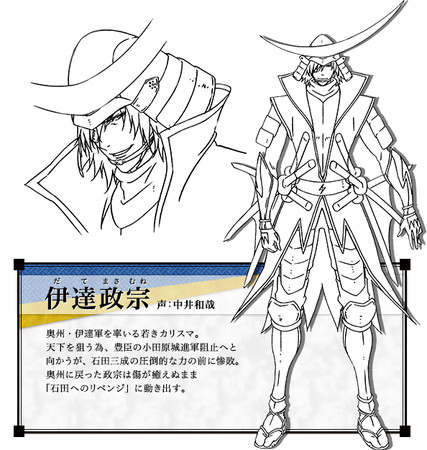 Souichiro Hoshi as Sanada Yukimura


Toru Ohkawa as Tokugawa Ieyasu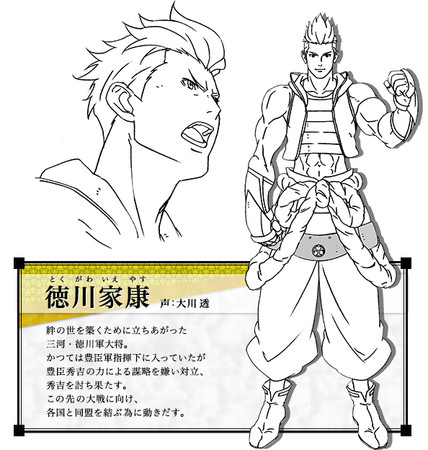 Tomokazu Seki as Ishida Mitsunari


[Historical Japanese names are listed family name first here, while modern names are listed family name last.]
Sengoku Basara Judge End will be based on CAPCOM's 2010 game Sengoku Basara 3 (Sengoku Basara: Samurai Heroes), and it will depict the epic Battle of Sekigahara. The anime will premiere this year, and NTV's English website lists the anime as Sengoku Basara -Judgement- with 12 episodes.
Thanks to WTK for the news tip
Source: Dengeki Online
Images © Capcom/Basara JE
---