News

Binan Kōkō Chikyū Bōei-bu Love! Anime's 2nd Video Reveals Opening Song, Tomokazu Sugita

posted on by Kyle Cardine
"Handsome High School Earth Defense Club Love!" anime to debut on January 6
---
The official website for the upcoming original anime Binan Kōkō Chikyū Bōei-bu Love! (Handsome High School Earth Defense Club Love!) began streaming the second promotional video on Wednesday. The video features the opening theme "Zettai Muteki☆Fallin' LOVE☆" (Absolute Invincible☆Fallin' LOVE☆), as sung by the Defense Club's voice actors.
Narrator: Just what is, "Love-Making?"
En: My love bracelet is reacting, but there's really no reason for us all to go. I'm taking a vacation today.
Ryū: Huh!? Are you serious Yufuin-senpai?
Atsushi: OK. They might call if there aren't enough people out there.
Io: All right then, we've gotten permission.
Wombat: Hey! Wait a minute!
Yumoto: Well, I think it'd be best if the five of us went together...
Wombat: See!
En: Why?
Yumoto: Um, kind of just a feeling. And anyway, I like odd numbers better than even ones!
En: Can't be helped, I guess. Let's get going.
Wombat: Now then! Immediately use "Loving Breaking" to transform into Battle Lovers!!
Yumoto: Love-making! Sparkling Prince, Battle Lover Scarlet!
En: Sparking Prince, Battle Lover Cerulean!
Atsushi: Piercing Prince! Battle Lover Epinard!
Io: Booming Prince! Battle Lover Sulpher!
Ryu: Heart-Throbbing Prince! Battle Lover Vesta!
Narrator: They're Love-Making into Battle Lovers!
Yumoto: We are the successors of love!
All: Battle Lovers!
Yumoto: Senpai!
Yumoto: What are you doing!?
Narrator: Fight! For the sake of love!
Yumoto: Scarlet Lumiere!
Kinshiro: There is one thing that has become certain. They are our enemy.
Narrator: The Caerula Adamas that targets the Earth!
Yumoto: Feel...
All: The power of love!
Narrator: Binan Kōkō Chikyū Bōei-bu Love!
Gōra: Yumoto, how's the temperature of the water?
Gōra: It's perfect, Gōra.
Narrator: A hot anime filled with love and justice. Broadcasts start in January 2015!
The video also reveals the anime's premiere date of January 6.
In the story, the high school "Earth Defense Club" is basically the "do nothing club." Club members En and Atsushi are soaking in the bathtub at a public bath when suddenly a mysterious pink creature, Wombat, appears out of thin air and asks, "I want to save this star... please would you lend me your power?" Then, Yumoto, whose family runs the bath house appears and chases wombat to give him a hug.
In school the next day, the remaining two members, Io and Ryū, also meet Wombat. Wombat gives all five of them bracelets and tells them to protect Earth. A dazzling light comes from the bracelets and envelops their bodies...
The cast includes:
Defense Club: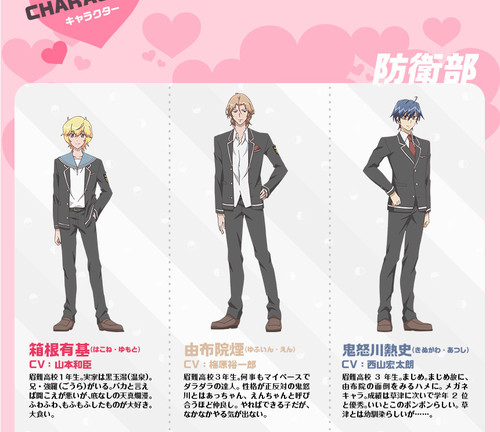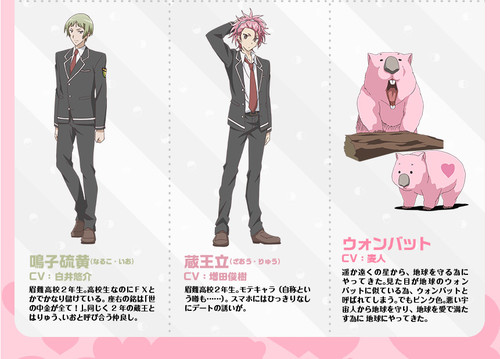 Kazutomi Yamamoto (Love Stage!!'s Kōsuke) as Yumoto Hakone
Yuichiro Umehara (Orenchi no Furo Jijō's Wakasa) as En Yufuin
Kōtarō Nishiyama (Haikyu!!'s Kazuhito Narita) as Atsushi Kinugawa
Yusuke Shirai (The World Is Still Beautiful's Minor Rani Theus) as Io Naruko
Toshiki Masuda (Samurai Flamenco's Masayoshi Hazama) as Ryū Zaou
Mugihito (Tokyo ESP's Sukesaburō) as Wombat
Conquest Club:

Hiroshi Kamiya (Attack on Titan's Levi) as Kinshirō Kusatsu
Jun Fukuyama (Black Butler's Grell) as Ibushi Arima
Takuma Terashima (Uta no Prince Sama's Otoya) as Akoya Gero
Hiroki Yasumoto (Hetalia - Axis Powers' Germany) as Thunder

The website also announced that Tomokazu Sugita (Gintama's Gintoki Sakata) will play Yumoto Hakone's older brother, Gōra Hakone, and voice actors from the Conquest Club will sing the ending theme, "I miss you no 3 meter."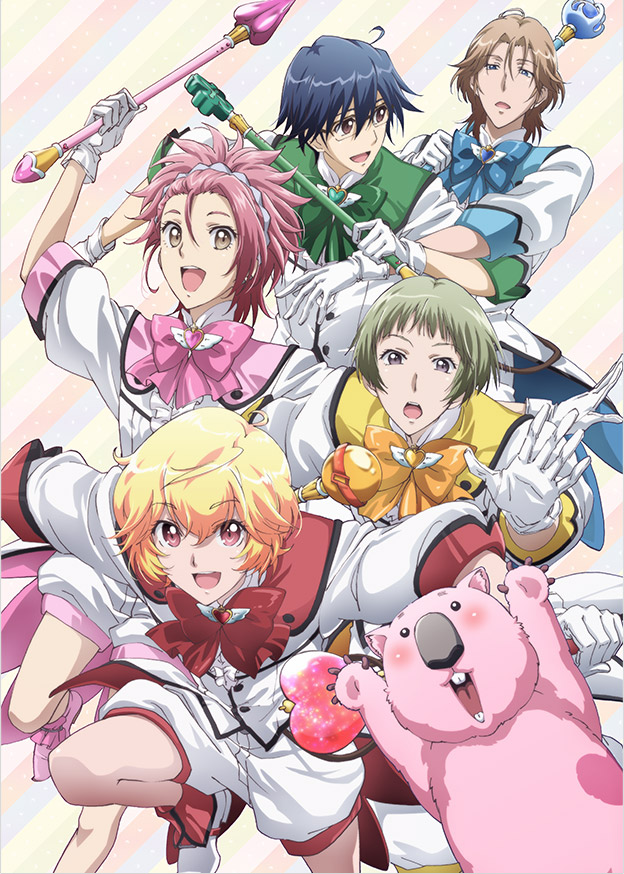 The staff includes:
---