×
remind me tomorrow
remind me next week
never remind me
Subscribe to the ANN Newsletter • Wake up every Sunday to a curated list of ANN's most interesting posts of the week.
read more
News

A Certain Magical Index and 009 Re:Cyborg Released Monday

posted on by Andrew Osmond
---

On Monday September 14, Animatsu will release A Certain Magical Index on both Blu-ray and DVD. In the 24-part series, Kamijou Touma is a student living in Academy City, a highly advanced place in terms of technology. Despite being gauged as a level zero esper (no powers), he possesses on his right hand the Imagine Breaker, an ability that negates any power whatsoever. Touma finds a young girl named Index who is trying to run away from Necessarius, a powerful magic organization that she is member of. Blessed with the skill of memorizing any sort of information, she holds 103,000 forbidden magical books within her head. As science and magic cross paths, Touma must face several dangers amid espers and magicians who appear at the scientific town.

Anime Limited will release the Blu-ray/DVD combi pack Collector's Edition of the film 009 Re:Cyborg. The Blu-ray disc in the set will contain the film in both 3D and 2D.
Kenji Kamiyama (Ghost in the Shell: Stand Alone Complex, Eden of the East) wrote and directed the action science-fiction film 009 Re:Cyborg, inspired by Shotaro Ishinomori's original manga. Kenji Kawai handled the music for the film, which opened in Japan in October 2012. The story begins in 2013 when skyscrapers in London, Moscow, Berlin, and New York are destroyed by simultaneous bombings. The indiscriminate terrorism by an unknown group with unknown motives sets off widespread panic throughout the world. A group of nine cyborg fighters are reassembled to deal with the situation.

Animatsu will also release The Comic Artist and His Assistants, both on Blu-ray and DVD. The original manga by Hiroyuki tells the story of professional manga artist Yūki Aito and his professional/personal relationship with his assistant Sahoto Ashisu and other staffers. Takeshi Furuta (Giant Killing, Mobile Suit Gundam AGE episode director) directed the series, Aki Itami (Flowers of Evil, Mushi-Shi) wrote the scripts, and Hitomi Tsuruta (The Knight in the Area) designed the characters. Animation studio ZEXCS (D.C. ~Da Capo~, Flowers of Evil, Say "I love you.") produced the series. The original four-panel slice-of-life comic began in 2008.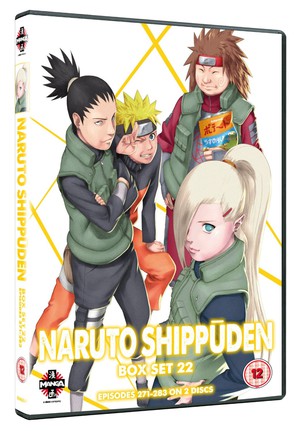 Manga Entertainment will release Box Set 22 of Naruto

Shippuden, including episodes 271 to 283 of the series; and also the fourth Fairy Tail Collection, carrying episodes 73 to 96 of the series.
---