News

Berserk and the Band of the Hawk Game's Opening Sequence Streamed

posted on by Egan Loo
Games ships in Japan on October 27, in N. America on February 21, in Europe on February 24
---
Koei Tecmo began streaming the opening sequence or its Berserk and the Band of the Hawk (Berserk Musou) video game on Tuesday.
The game will ship in North America on February 21, and in Europe on February 24.
The game's full playable character roster currently includes: Guts, Griffith, Casca, Judeau, Serpico, Schierke, Zodd, and Wyald. Players can also play as Griffith in his Femto form. The game will feature an "Infinite Eclipse" mode and a "Behelit Collection" mode. The game will also feature about two hours of anime footage from Studio 4°C's anime film trilogy.
KOEI Tecmo Games and Omega Force's game will ship in Japan on October 27, after a delay for the original release date of September 21.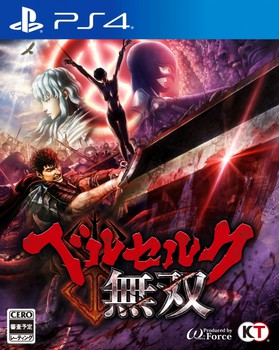 The game will ship in Japan on PlayStation 4, PlayStation 3, and PlayStation Vita. The download and standard physical release of the game for PS4 will retail for 7,800 yen (about US$74), and for PS Vita for 6,800 yen (US$65). The PS3 version will be download only and will retail for 7,800 yen. The first edition of game will include a code for a special "bathing" costume for Casca.
Other bonuses in Japan vary by retailer, and include costumes for Griffith, Guts, and Schierke, or physical items such as a key holder or microfiber cloth.
Koei Tecmo Europe and Koei Tecmo America have both confirmed that the Western release will be for PS4, PS Vita, and PC via Steam. Producer Hisashi Koinuma said in an interview at E3 that the company is "looking into" an Xbox One release in America and a Steam release in Japan. Koinuma also said that the game's story will start from the beginning in order to accommodate action game fans who are new to the franchise, and will follow the story up through the story in the recently concluded anime.
---