Viz Media Partners With Tout Industries To Give Neon Alley Members And Anime Fans A Fun New Way To Be Seen And Heard
VIZ Media And Tout Invite Neon Alley Fans To Create And Share Real-Time Video Segments About The 24-Hour Game Console-Based Anime Channel This Fall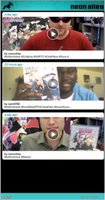 San Francisco, CA, August 29, 2012
– VIZ Media, LLC (VIZ Media), the largest publisher, distributor and licensor of manga and anime in North America, has teamed with Tout Industries, Inc. (
www.tout.com
), a prominent social media technology company, to utilize its platform to enable Neon Alley members to share real-time video status updates. Tout is the latest partner to be announced for Neon Alley, the 24/7 anime channel VIZ Media will debut this Fall.
Tout is an innovative social media tool that gives Neon Alley fans a fun way to communicate and interact with the channel and each other. By downloading the Tout application (available free for iPhone and Android smartphones) and via Webcam, users can easily shoot and share 15-second video status updates. Tout posts are published automatically and in real-time to Tout.com, Twitter, Facebook, Pinterest, as well as SMS and email contacts. Through Tout's reply feature, users can also engage in Tout video conversations. Tout also offers a free Tout Widget, which can be customized in minutes, and placed on any Neon Alley fan Website or blog.
Anime fans don't have to wait until Neon Alley launches this fall to start sharing touts! With Tout, Neon Alley fans will be able to let their voices be heard on what they're most excited about in the new channel as they await its launch. When the channel debuts, fans can tout their favorite shows of the week, the best moments from the new daily episodes, show off best cosplay outfits, and more. The Neon Alley team will also feature cool touts on the channel! Visit Tout.com and sign up for a free account and download the app to a mobile device or simply use a PC webcam to send touts to @neonalley and #NAforAnime.
"Tout adds an entirely new layer to the Neon Alley experience by allowing fans a way to easily share video responses in real-time, as well as see what their fellow members think," says Brian Ige, VIZ Media Vice President, Animation. "In addition to showcasing highlighted fan touts on the channel, Neon Alley will tout as well, delivering announcements from events, behind-the-scenes action from voiceover studios, and more! Join the Neon Alley conversation on Tout today!"
"Our partnership with VIZ Media leverages the creativity of anime fans to give them a fun and easy to use social tool to engage in two-way video communication with other fans and the Neon Alley channel," says Tout CEO, Michael Downing. "Touts bring Neon Alley viewers together and we look forward to helping Neon Alley grow its social community."
Neon Alley features the world's best anime titles all dubbed and uncut in English and presented in HD (when available). Programming will include weekly exclusive premieres of hit titles fans love, alongside a mix of new, cutting edge titles they didn't know they missed, including blockbusters NARUTO SHIPPUDEN, BLUE EXORCIST, ONE PIECE, BERSERK: THE GOLDEN AGE ARC, TIGER & BUNNY and more. Neon Alley is the first platform designed to be studio agnostic, with a diverse array of titles from other leading anime and content distributors, such as Aniplex, FUNimation, Anime News Network and Taiseng. The service will be subscription-based, subsidized with limited commercial advertising to keep the launch price to consumers at a low $6.99 per month.
For more information on Neon Alley and to register for news and updates on the service's launch, please visit
www.NeonAlley.com
.
About Tout Industries, Inc.
Headquartered in San Francisco, Tout is a social media technology company whose smartphone and Web applications enable real-time video status updates that can be shared instantly with friends, family or the whole world through Facebook, Twitter, or even published to your own site via the Tout Widget and API. Tout enables users to capture and share 15-second videos with 2-clicks from the Web, iPhone, iPad or Android smartphones. Tout is a technology spin-out of SRI (Stanford Research Institute), responsible for such innovations as intelligent personal assistant technology SIRI acquired by Apple. Since launch, Tout has had over 30 million visitors to its application, making it one of the fastest growing social media services. Visit
www.tout.com
or follow us on Facebook and on Twitter @Tout.
About VIZ Media, LLC
Headquartered in San Francisco, California, VIZ Media distributes, markets and licenses the best anime and manga titles direct from Japan. Owned by three of Japan's largest manga and animation companies, Shueisha Inc., Shogakukan Inc., and Shogakukan-Shueisha Productions, Co., Ltd., VIZ Media has the most extensive library of anime and manga for English speaking audiences in North America, the United Kingdom, Ireland and South Africa. With its popular digital manga anthology WEEKLY SHONEN JUMP ALPHA and blockbuster properties like NARUTO, BLEACH and INUYASHA, VIZ Media offers cutting-edge action, romance and family friendly properties for anime, manga, science fiction and fantasy fans of all ages. VIZ Media properties are available as graphic novels, DVDs, animated television series, feature films, downloadable and streaming video and a variety of consumer products. Learn more about VIZ Media, anime and manga at
www.VIZ.com
.
---