Kalafina, New Album Now Available Via iTunes and Amazon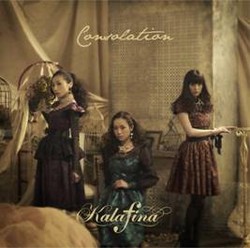 Kalafina, who will be making an appearance in the U.S. at Anime Central, has released their 4th album "Consolation" which includes hit singles "to the beginning"(the opening theme song for "Fate/Zero") , "Hikari Furu"(theme song for the film "Puella Magi Madoka Magica part 2 Eien no Monogatari" ) , and their latest single "Yume no Daichi".
Release info
-New Album 'Consolation'-
Available now!
Click HERE for iTunes link
Click HERE for Amazon link
[Tracklist]
1. al fine
2. consolation
3. moonfesta
4. Door
5. Mirai (opening song for "Puella Magi Madoka Magica part 1 Hajimari no Monogatari")
6. Hanataba
7. signal
8. obbligato
9. kiichigo no shigemi ni
10. Manten (ending theme song for "Fate/Zero 2nd season" episode 18 and 19)
11. to the beginning (the opening theme song for "Fate/Zero 2nd season")
12. hikari furu (theme song for "Puella Magi Madoka Magica part 2 Eien no Monogatari")
13. yume no daichi
Kalafina US Live Information
-Anime Central 2013-
May 17-19, 2013
Rosemount Theatre
http://www.acen.org
[Profile]
Kalafina is a Japanese female vocal trio produced by the hit-making sound producer, Yuki Kajiura.
Keiko, Wakana, and Hikaru, the members of Kalafina, have voices that perfectly match the music composed by Kajiura. Each member takes the main vocal in turn, with alternating backing vocals and part variations, and their beautiful harmony captivates the audience to lead them into the world of Kalafina's mystical music.
Kalafina made their spectacular debut on January 23, 2008 with "Oblivious," and the remarkable accomplishment of charting three singles in a row on the Oricon Top 10 Weekly Singles Chart with their second single, "Sprinter/ARIA," and their third single, "Fairytale." All three of these songs are used as the theme for the anime series, "Kara no Kyoukai - Garden of Sinners." This anime changed the history of single theater showings and became a megahit with cumulative DVD sales of over 600 thousand copies.
Kalafina consecutively released their fifth and sixth singles, "Storia" and "Progressive," and their seventh single, "Hikari no Senritsu," released in January 2010, debuted at #7 on the Oricon Weekly Singles Chart. Kalafina's seven singles since their debut had all charted within the Top 15 in a row on the Oricon Charts, which was a tremendous accomplishment. Their second album, "Red Moon," was released on March 17, 2010 and charted at #5 on the Oricon Chart.
Kalafina's 3rd album "After Eden" was released on September 21, 2011, and charted at #3 on the Oricon Chart. Same entitled nationwide tour drew approx. 14,000 attendees in total, and this shows how much solid reputation Kalafina is earning.
The following singles "Kagayaku Sorano Shijimaniwa", "Magia", "to the beginning" and "Hikarifuru" had been used as the theme songs of hit animes such as "Black Butler II", "PUELLA MAGI MADOKA MAGICA" and "Fate/Zero". With this powerful tie-in and the fan-base they have established through their performance, they are enjoying increased popularity in Japan and abroad alike.
www.kalafina.jp
---