Daisuki.net to Simulcast Monogatari Series Second Season this Summer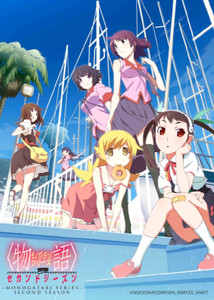 DAISUKI.NET to present special screening at Anime Expo 2013
June 21, 2013
DAISUKI.NET, the Japanese Animation official distribution site announced today, in partnership with Aniplex of America, that it will stream its first simulcast anime title this summer, MONOGATARI SERIES SECOND SEASON. The series will premiere on July 6th and Daisuki.net will exclusively stream the MONOGATARI simulcast only a few hours following the broadcast in Japan. Like all other video content on DAISUKI.NET, the simulcast will be streamed for free and in HD quality.
With so many questions left unanswered from Nisemonogatari, what will Koyomi Araragi, Senjyogahara and the others get into next?
MONOGATARI SERIES
reunites directors Akiyuki Shimbou (Bakemonogatari, Nisemonogatari, Madoka Magica) and Tomoyuki Itamura (Nekomonogatari (Black)) for another season of Nisioisin's MONOGATARI.
"We want to provide the newest content from Japan, as well as classic ones", says Kunihiko Shibata, President of DAISUKI Inc. The site currently offers Puella Magi Madoka Magica, Sword Art Online, Mobile Suit Gundam SEED, Mobile Suit Zeta Gundam, Lupin the 3rd, and The Prince of Tennis OAV series. Beginning with the simulcast of MONOGATARI SERIES SECOND SEASON, the previous series will also be streamed: Bakemonogatari, Nisemonogatari and Nekomonogatari (Black). MONOGATARI SERIES SECOND SEASON and Nekomonogatari (Black) can be viewed in the US, Canada, United Kingdom, Ireland, Australia, New Zealand and South Africa. Bakemonogatari and Nisemonogatari will be available in the US, Canada, United Kingdom, Ireland and South Africa.
DAISUKI.NET also announced today that it will be attending the 2013 Anime Expo (July 4-7 at the Los Angeles Convention Center). DAISUKI.NET will be greeting fans at their exhibit hall booth and host their first U.S. industry panel on July 4 at 18:15 in room LP2 with a Q&A session and a special screening of Nekomonogatari (Black), which will be shown with English subtitles for the first time. The special guest at the panel will be Director Mitsutoshi Kubota from the animation studio Shaft -- the company that produced series such as Puella Magi Madoka Magica and Bakemonogatari. Panel attendees will also receive a free t-shirt while supplies last.
Additionally, the launch of DAISUKI.NET's e-commerce platform is planned for late June 2013. As part of the e-commerce launch campaign, another special give-away will be held with winners announced after each round totaling 1000 lucky participants. Each DAISUKI.net user may enter once every 24 hours. Registration is required to enter the contest.
Return to DAISUKI.net frequently for updates on new contents, and the launch of the e-commerce platform.
---