RIGHT TURN ONLY!!
In the Future, Only Priests Will Fight Vampires
by Carlo Santos,

Sometimes I wonder if I'm violating the spirit of this column by covering prose novels. Then I remember I've already bent the rules for non-Japanese comics anyway, and I laugh.
---
KAMIYADORI


Vol. 1
(by Kei Sanbe, Tokyopop, $9.99)
FROM THE BACK COVER:
"From Kei Sanbe, the creator of the hit series
Testarotho
, comes a chilling vision of a virus that is utterly out of control.
In a dark future, a biological disease that transforms humans into monsters called the Kamiyadori plagues the city. The peacekeeping forces include a specially trained team called the Right Arms. These agents must keep tight control on those who are infected—and the only salvation they offer is execution! But when one Right Arms officer is unable to kill a young boy and his sister, he sets off a chain reaction that may bring a ray of hope to a world filled with despair and chaos..."
PROS:
Sanbe shows no fear of dark emotions and grotesque imagery in this apocalyptic action series. Drawn with bold lines and gritty details, the world of Kamiyadori is an uncompromising look into the stress of having to face death everyday. Insect-alien-hybrid monsters magnify the horror of this transformative disease, while blistering action scenes demonstrate the brutal life of being an agent. But the most powerful scenes are not the ones that charge ahead all guns blazing, but the ones where the story pulls back to reveal its soft, emotionally vulnerable underside. The infected victims that the Right Arms must face—orphans, mothers, grandfathers—reveal their stories in just a few panels, often silent or in the background, but that alone can say it all. By the time they're staring down the barrel of an agent's gun ... it hits you in the heart harder than any bullet or explosion ever will.
CONS:
Like so many alternate-world stories, this one sets up a complex society full of fancy names, and then never explains it. Yes, dealing with victims of a horrific disease is Very Important Business, but you'd think these folks could stop once in a while to explain why "the Holy" is such a big deal or what exactly goes on in a Right Arm's right arm. Without a framework of how this world operates, it looks like people are running around being tough and badass just for the sake of being tough and badass. And speaking of disjointed behavior, what's with the obligatory "emotionless little girl"? Again, the lack of background information makes a lot of the main characters look like stereotype fill-in roles. What could have been a strong, hard-hitting series is marred by logical gaps—a society where people shoot first and never even bother to answer questions.
RTO!! RATING: C
---
KEY PRINCESS STORY: ETERNAL ALICE RONDO


Vol. 1
(by Kaishaku, DrMaster, $9.95)
FROM THE BACK COVER:
"Aruto Kirihara is a student who spends his free time reading the book about ALICE, and is even writing his own sequel. After meeting a girl who bears a striking resemblance to his heroine, he is pulled into a world where girls with strange powers and bunny ears battle to recover the true sequel, which has been lost for generations. What Aruto learns is that he has creative powers of his own, and he must use them to recover the lost book."
PROS:
Behold, the captivating power of books! In a world even more outlandish than the
R.O.D.
universe, stories and imagination are actual sources of power, not just literary principles. You've seen magical battles before, but have you ever seen magical battles over the pages of a book ... hidden in someone's heart? This is a world with so much to uncover, and such a fully developed system of metaphysics, that it might be nice to just sit down and ponder how it all works. Stylish fights are the key point, of course, but Aruto's particular relationship with each character—plus his unusual power—provides an anchor point for the plot as a whole. As more characters enter the battle for the "Never-Ending Alice" book, more mysteries emerge—and it'll be fun trying to figure them out.
Eternal Alice
Rondo is, if nothing else, the execution of a unique idea.
CONS:
Too bad that execution is terrible. Illogic, badly done
fanservice
, and even worse character designs all help to ruin a fascinating idea. First off, why doesn't anyone tell us what the actual Alice story is? Apparently it's by some author who isn't
Lewis Carroll
, and then they don't give any plot details. And why must the girls wear ridiculous bunny outfits that look too much alike when they fight? And why must there be a hint of attraction with every single girl in Aruto's life (including, ick, his own little sister)? Even the setting makes no sense, cramming Japanese lifestyle and European housing into one big mess. See, there are some parts that might be intriguing, but everything else is just blatant marketing. Did the execs at Media Works sit around a table and say, "Okay, the people who read our manga magazines enjoy the following themes and genres:" and then shoehorn them all into one series? Because that's what this is, and it hurts.
RTO!! RATING: D
---
O-PARTS HUNTER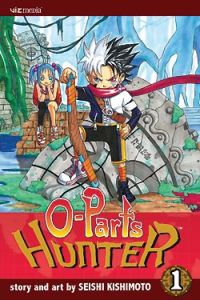 Vol. 1
(by Seishi Kishimoto, Viz Media, $9.99)
FROM THE BACK COVER:
"In the not-too-distant future, mankind battles over O-Parts, relics from an ancient civilization. It takes a special kind of person to unlock the full potential of these remnants from the past, and a unique breed of humans known as O.P.T.s (or O-Parts Tacticians) become a force to be reckoned with. Unfortunately, O-Parts can be used for good or evil purposes.
Jio is a young boy with a tragic past who only trusts one thing in the world: money. Little does he suspect that he is also a very powerful O.P.T., and inside him sleeps a demon of incredible ferocity. He meets up with a girl named Ruby, and together they decide to embark on a dangerous quest to discover as many O-Parts as they can. Will Jio help Ruby realize her dream of becoming a world famous treasure hunter? More importantly, will Ruby help Jio realize his dream of—
world domination
?!"
PROS:
It may not be called "666 Satan" anymore, but the devil is still very much in the details of this high-spirited adventure. Looking for a hero with a dark side? It doesn't get much darker than Lucifer himself. Throw that into a world already rife with crooks, bounty hunters and magical weapons, and the result is nonstop action. Kishimoto's battles flow effortlessly from scene to scene, with displays of speed and power that haven't been seen since ... well ... his older brother's work on
Naruto
. (Let's face it, the comparisons are inevitable.) Richly detailed fantasy landscapes and flashy character designs should be familiar to fans of the boy ninja as well. The last chapter of the volume, where Jio faces off against a childhood friend, is especially moving—the high-stakes fight scene is a given, but the deeply emotional closer is surprising for a young boys' adventure series.
CONS:
And just in case you weren't sure this was a young boys' adventure series, Kishimoto makes sure to cram in every cliché possible in his own stylish way. Yes, our spiky-haired hero will go on this worldwide quest, seeking out powerful artifacts while learning the value of friendship. As if this hasn't defined the entire genre for the past twenty years ... oh, and of course he gets a near-useless girl to tag along with him. Just for the cute factor. How about a little dramatic content to boost the story? Dead parents turn out to make great plot devices—just invoke your long-lost Mom and Dad and suddenly everyone starts taking things seriously. This works for heroes and villains alike, with nothing else of substance to bring the characters together. It's an appealing story for the right kind of reader, but relies way too much on formula.
RTO!! RATING: C
---
SUZUKA



Vol. 2
(by Kouji Seo, Del Rey, $13.95)
FROM THE BACK COVER:
"After moving from the boonies to downtown Tokyo, Yamato toils at his aunt's all-girl apartment complex. But along with free room and board, he gets to live right next door to Suzuka, the girl of his dreams. Yamato is sure that he's in love with Suzuka, but what's the next step? If he tells her how he feels, it could ruin their friendship. But when Yamato unexpectedly breaks a high school track-and-field record, Suzuka suddenly seems
possibly
romantically interested. The words 'I love you' dance on the tip of Yamato's tongue. But once he utters them, his life will change forever!"
PROS:
In this volume: Yamato discovers his blinding footspeed and unexpectedly signs up for the American football team! No, just kidding. Yamato's burst of athleticism (another beautifully drawn bit of sports action) does help to push the plot ahead, though, by making Suzuka take notice of him. Once again Seo is in top form with presenting those sweet little moments that add up to falling in love: walking home under an umbrella in the rain, cuddling up for comfort during a blackout, experiencing the exhilaration of an amusement park. Detailed shading and backgrounds are just as essential as the characters here, setting the atmosphere for each scene. Romance isn't all flowers and bunnies, though—the final chapter takes a sharp turn that will leave readers breathless as Yamato goes through a classic teenage mood swing. This manga is all about emotion, but who knew that it could feel so wrenchingly
real
?
CONS:
In between those glowing moments of young love ... is a whole lot of nothing. This volume hits some key plot points, but getting there can be a real drag—brace yourself for transitory scenes of dull classroom banter and hanging around the bathhouse. Oh, and can we surgically remove Hattori from the story? This guy just keeps giving Yamato lame advice that gets his relationship with Suzuka absolutely nowhere. Maybe he's supposed to be funny by being horrifically wrong about everything, but more often than not he's just annoying. Also in the annoying department: Yamato's wide-eyed indecisiveness, which forms the essence of his character (and perhaps the entire story). The appeal of Suzuka depends a lot on being able to "get into" Yamato's character and willingly go along on his emotional ride. Those who can't stand that kind of romantic lead, however, might want to steer clear.
RTO!! RATING: B
---
TRINITY BLOOD: RAGE AGAINST THE MOONS (novel)



Vol. 1
(by Sunao Yoshida, Tokyopop, $7.99)
FROM THE BACK COVER:
"Long after Armageddon, the struggle between humans and vampires rages on. Political turmoil, terrorist plots, and the relentless desire for personal revenge threaten to escalate the conflict into a full-blown war. Special Ops Team AX uses everything at their disposal—including a Crusnik, a vampire that preys upon other vampires—to protect mankind.
Set against a neo-gothic backdrop, the
Trinity Blood
novels are packed with action, emotion, and artistry. This first volume of
Rage Against the Moons
contains tales of heroism, sacrifice, and retribution, as the AX agents tirelessly strive to protect the innocent and keep the peace."
PROS:
Entering the world of Trinity Blood is like entering a dreamland where everyone's favorite action-adventure-horror ideas come together. This volume quickly introduces us to the tragic romanticism of vampires, the mystical machinations of the Vatican, and a post-apocalyptic Europe where any sufficiently advanced form of technology is considered magic. The third story in this book, "From the Empire," is the strongest example of these elements at work: clumsy Vatican agent Abel Nightroad teams up with a tetchy Eastern European vampire to eliminate a renegade noble. What happens next is explosive and plot-twisted enough to be worthy of any classic spy thriller, with political conspiracies left and right. Vivid scenes also help to introduce memorable characters: android priest Tres, smart and scheming cardinal Caterina, villain-magician
Kämpfer
, and others all lend to the slick future-medieval atmosphere. Exotic settings and open-ended subplots guarantee that readers will be coming back for future volumes.
CONS:
If all this sounds like a recipe for some generic Hollywood potboiler, well ... that's because it mostly is. These adventures serve no higher purpose than pure slam-bang entertainment; there
could
be some subtext about the future of organized religion, but no, it's just cool to have Secret Agent Clergy fighting vampires in the future. Despite all the intense (and sometimes gory) action, the plotting is highly predictable: any main character who gets badly injured never actually dies, the "real" villain is always someone else, and there is always a young girl involved. Clearly, this futuristic war between vampires and the Vatican has led to an unexpected resurgence of damsels in distress. The overly methodical writing style also adds to that shallow feeling—it explains what's going on, what people are thinking and saying, but without any real flair or clever turns of phrase.
RTO!! RATING: C+
---

KIRARIN REVOLUTION


Vol. 1
(by An Nakahara, Shogakukan, ¥410)
FROM THE ENCYCLOPEDIA:
"Kirari Tsukishima is a beautiful yet gluttonous 14-year-old girl. While those around her are worshipping the popular idol duo, SHIPS, she only devotes herself to food. One day, however, Kirari, who is dense when it comes to the matters of the heart, encounters Seiji Hiwatari of SHIPS and falls in love with him at first sight. In order to be with him, she aspires to become an idol herself. With the help of SHIPS—the gentle Seiji and the bad-mouth Hiroto Kazama—and her cat mascot Naa-san, Kirari pursues the entertainment world, where she discovers that being an idol is not all fun and games, and that in order to persevere in both her love and her career, she must overcome any challenges that fortune has in store."
PROS:
In our media-saturated world, this is every trendy girl's dream: to break into the celebrity lifestyle by sheer force of will and a few strokes of dumb luck. But like
Beauty Pop
(which also runs in the same magazine), Kirarin Revolution borrows a concept from its opposite demographic to keep the series entertaining: Friendship. Challenge. Victory! Just convert tournaments and trials into showbiz elements—passing an audition, shooting a commercial, voice lessons, a live performance—and Kirari's path to stardom becomes a genuine adventure. The positive can-do spirit, plus a love interest who's emotionally stable for once, makes this a welcome break from the angsty, soap-operatic hits that dominate the
shoujo
landscape. With bright-eyed characters and clean, dynamic layouts, young readers and the young at heart will have no trouble picking this up. Plus that sly cat mascot Naa-san might very well be the best thing since
Mokona
.
CONS:
In order to present a fun, accessible story, a lot of oversimplifications come into play. Sure, we'd all like to believe that talent managers just say, "Oh, I pick
her
!" to any wannabe starlet that bumbles into the office for an audition. And that this talent agency can turn her into a national sensation with just one well-placed billboard. Obviously, this is a wish-fulfillment fantasy for starry-eyed kids, not an accurate portrayal of showbiz (as if there could ever be such a thing). Kirari doesn't even seem to attend school... What's more, conscientious objectors to the idea of "manufacturing" in the arts and entertainment should probably just avoid this series entirely. Although it espouses respectable values like self-confidence and hard work, KiraRevo is clearly anathema to uppity "rockists" who think that artistic success is determined only by raw talent and, uh, performing your own music.
---
discuss this in the forum (6 posts)
|