Case Closed (GN 23)
---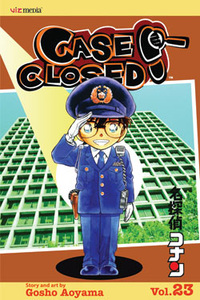 Title:
Case Closed
Volume:
GN 23
Pages:
200
Distributor:
Viz Media
Release date: 2008-05-20
Suggested retail price: $9.99
Age rating: 13+

ISBN-10: 1421516756 1421516756
ISBN-13: 9781421516752 9781421516752

Description:
Surely the Junior Detective League can't get into any trouble at an afternoon monster movie. But when a man in the audience dies, Conan and Anita realize that the real monster isn't the big green behemoth on the screen. Then Rachel gets her own movie moment, playing Rose - minus Jack - at the prow of a glittering ocean liner. When a suspicious explosion kills the romance, it's time for Conan and teen detective Harley Hartwell to make sure that the passengers' hearts will go on!

Story and art by Gosho Aoyama.
(added on 2007-09-26, modified on 2007-09-26)

It's an action-packed week with real winners and losers on the charts - Kiznaiver shoots up as a sudden rival for the top spot, while Kabaneri sinks like a stone! See how your favorite shows placed!
― Our team of reviewers are following 25 anime series of the Spring 2016 season and readers are rating each episode as the reviews go up. So let's have a look at what ANN readers consider the best (and w...
Aya Kanno's take on Richard III continues with more conflict for Richard as he struggles to decide whether it is better to have emotions or to simple strike them down as Warwick continues to take his role as "kingmaker" a little too seriously.
― There's always a question when reading historical fiction and something that says that it's "based on" previous well-known works: how close will the author s...
Visual Art's CEO Takahiro Baba, character designer Na-Ga and music composer Shinji Orito discuss the incredible success and behind-the-scenes details of some of their biggest games, including Air and Angel Beats!
― Three members of Japanese visual novel company Visual Art's – CEO Takahiro Baba (left in picture), character designer Na-Ga (not pictured by request), and music composer Shinji Orito (rig...
Justin breaks down how exactly your favorite old shows get selected for big fancy high definition remasters on bluray, and why some classics get left in the dust.
― It's a holiday weekend, so we'll take an easy one this time. Nadeem asks: I buy physical media as I am a collector. With that said, I've been trying to improve my collection by purchasing Blu-rays instead of DVDs or upgrading my older DV...
Yutaka Yamamoto's idol singers get their very own prequel movie, out now on bluray from Sentai Filmworks. PLUS: all of this week's new anime releases!
― With all the craziness that's been going on in the last few days regarding anime on Hulu (see this Answerman article for the details), I'm reminded of why it's nice to own stuff on disc. Forget all that stuff about video quality and dependence on a ...
This 2014 follow-up to the 2012 TV series retains the series' storytelling feel and features strong technical merits, but those expecting a continuation of established plot lines may be disappointed.
― Abyss of Hyperspace is the 2014 movie follow-up to the 2012 TV series, at least in the sense that it continues the timeline of the animated part of the franchise; its events are set during a break befo...
Fullmetal Alchemist The Complete Series - Collectors Edition is the ultimate celebration of Fullmetal Alchemist and an essential addition to any anime collection. But time is running out...
― Fullmetal Alchemist is one of the most legendary anime of all time. The adventures of the Elric brothers have resonated with fans all over the world. This Fullmetal Alchemist The Complete Series - Collectors Ed...
Netflix's brand-new Voltron series has Mike remembering Voltes V, another giant robot show with an incredible and bizarre production and release history!
― In a couple of weeks, we'll see a brand new version of Voltron hit Netflix, bringing forth yet another iteration of World Events Productions' localization of Toei Animation's super robot series Golion. This latest version has caught my interest fo...
Takeshi Obata's illustrations from 2001-2006 get the deluxe treatment in this gorgeous artbook.
― Even if you aren't a fan of the series he has illustrated, it is hard to deny that his artwork is impressive. Showing a firmer grasp of human anatomy than many other mainstream mangaka along with beautiful composition skills, Obata's artwork isn't just good manga art, it's good art. While I recognize tha...
The summer is just about here and what better way to spend those long hot months than parked in front of your favorite anime? Here are seven perfect shows to get your summer going.
― Summer is quickly taking hold as temperatures climb and the school year winds to a close. Three months of freedom are knocking on your door. You can spend your time at cookouts, watching blockbusters in the oasis of you...
A Silent Voice's sixth volume is a structurally self-conscious expression of its greatest strength, the generous insights it provides into all of its characters' secret lives.
― It's always an interesting experience when a new volume of A Silent Voice comes out. On the one hand, I immediately want to rush through it - the story is a masterpiece, after all. It has an intimacy of characterization that'...