The Spring 2009 Anime Preview Guide
by The ANN Reviews Team,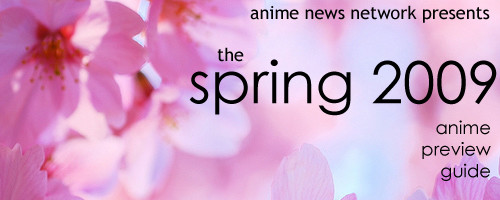 Welcome to Anime News Network's Spring 2009 Preview Guide! In the last few years, we've changed the format of our preview guides, and this year we're sticking to the new formula; our critics write up their impressions instantly and they get posted as they go along, liveblog-style. Each critic will cover as many shows as they can handle, resulting in alternate takes on most every show (sometimes on more than one episode!).

This is an ongoing guide; throughout the next two weeks, we'll be updating as often as possible with new perspectives on new episodes. New reviews will be posted as they're written.

Please remember that this is a preview guide. It is designed to give you a taste of the first episode (or the first few episodes) of a show with a preliminary opinion. These are not intended to be blanket judgments of these series as a whole. All reviews use the same ratings scale: 1-5, with 1 being the lowest.
Click on the critic's name to check out their episode reviews! The newest reviews will always appear at the
TOP
of each critic's page, so if you're wondering what's new, just click the critic and their latest work will pop right up. Scroll down to see earlier reviews. The newest title in each critic's page will also be
bolded
for your convenience.

Carlo Santos: Hatsukoi Limited, Basquash! episode 2, Phantom episode 2, Saki episode 2, Ristorante Paradiso episode 2, Polyphonica Crimson S, Hayate the Combat Butler season 2 episode 2, Tayutama, K-ON! Episode 2, Eden of the East, Hanasakeru Seishonen, Guin Saga, 07-Ghost, Ristorante Paradiso, Tears to Tiara, Fullmetal Alchemist: Brotherhood, Cross Game, Basquash!, Valkyria Chronicles, Sengoku Basara, Shangri-La, Natsu no Arashi, Dragonball Kai, Saki, Asura Cryin', Arad Senki -Slap Up Party-, Phantom ~Requiem for the Phantom~, Hayate the Combat Butler season 2, K-ON!, Mainichi Kaasan, Queen's Blade, Chi's New Address


Carl Kimlinger: Hatsukoi Limited, Asura Cryin' episode 2, Hayate the Combat Butler episode 2, Pandora Hearts episode 2, Phantom episode 2, Marie and Gali, Polyphonica Crimson S, Ristorante Paradiso episode 2, Tayutama, Hanasakeru Seishonen, K-ON! Episode 2, Eden of the East, 07-Ghost, Guin Saga, Ristorante Paradiso, Fullmetal Alchemist: Brotherhood, Tears to Tiara, Cross Game, Pandora Hearts, Basquash!, Asura Cryin', Shin Mazinger Shogeki Z-Hen, Valkyria Chronicles, Sengoku Basara, Shangri-La, Natsu no Arashi, Saki, Arad Senki -Slap Up Party-, Hayate the Combat Butler season 2, Phantom ~Requiem for the Phantom~, K-ON!, Queen's Blade, Mainichi Kaasan

Theron "Key" Martin: Hatsukoi Limited, Queen's Blade episode 2, Phantom episode 2, Asura Cryin' episode 2, Polyphonica Crimson S, Tayutama, K-ON! Episode 2, Eden of the East, Hanasakeru Seishonen, Guin Saga, 07-Ghost, Fullmetal Alchemist: Brotherhood, Ristorante Paradiso, Tears to Tiara, Cross Game, Dragonball Kai, Basquash!, Sengoku Basara, Valkyria Chronicles, Pandora Hearts, Shangri-La, Shin Mazinger Shogeki Z-Hen, Natsu no Arashi, Asura Cryin', Arad Senki -Slap Up Party-, Mainichi Kaasan, K-ON!, Phantom ~Requiem for the Phantom~, Hayate the Combat Butler season 2, Queen's Blade, Chi's New Address 1-4

Casey Brienza: Ristorante Paradiso episode 2, Eden of the East, Hanasakeru Seishonen, Guin Saga, Ristorante Paradiso, Tears to Tiara, Cross Game, Valkyria Chronicles, Natsu no Arashi, Basquash!, Shin Mazinger Shogeki Z-Hen, Dragonball Kai, Sengoku Basara, Pandora Hearts, Shangri-La, Saki, Phantom ~Requiem for the Phantom~, Asura Cryin', Arad Senki -Slap Up Party-



Zac Bertschy: Hanasakeru Seishonen, 07-Ghost, Sengoku Basara, Pandora Hearts, Dragonball Kai, Asura Cryin', Phantom ~Requiem for the Phantom~, K-ON!, Queen's Blade
---
discuss this in the forum (656 posts)
|
this article has been modified since it was originally posted; see change history