Interest

Gurren Lagann's Imaishi Draws to Support [email protected]'s Nishigori (Updated)

posted on

2011-10-25

21:13 EDT by Jennifer Sherman
Pair worked on Gurren Lagann, Panty & Stocking with Garterbelt, other Gainax titles together
---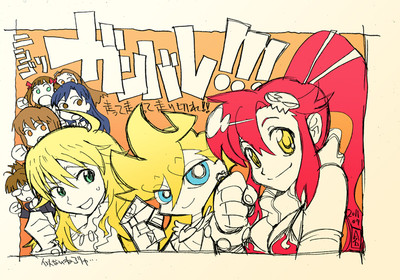 Key animator and director Hiroyuki Imaishi recently drew an illustration to support The [email protected] director Atsushi Nishigori in his work on the anime. The image, which includes characters from anime the pair worked on together, was posted on The [email protected] anime's official website. As a possible reference to the drama anime's production nearing completion, the image reads, "Nishigori, do your best! "Keep running and running to the very end!"
Imaishi drew part of the storyboard for The [email protected] television anime under Nishigori before leaving the anime studio GAINAX to establish Studio Trigger with Masahiko Otsuka and Kazuya Matsumoto earlier this month. Imaishi directed Gurren Lagann and Panty & Stocking with Garterbelt while Nishigori served as character designer for the anime projects. The duo also worked on several other GAINAX anime together before Imaishi's departure from the studio.
Yesterday, Studio Trigger announced that it was subcontracted to produce the upcoming 17th episode of the The [email protected] television anime. The episode will air on October 28 with the anime's 25th and final episode slated to air on December 22.
[Via Moe Otanews Sokuhō]
The preview video for the 17th episode of The [email protected] is now online:
---
this article has been modified since it was originally posted; see change history