Interest

Toshio Suzuki: Red Turtle Makes Miyazaki Want to Return to Work

posted on by Lynzee Loveridge

Retired Ghibli producer Toshio Suzuki revealed in a press conference that all it takes is a good film to get Hayao Miyazaki to reconsider his retirement. According to Suzuki, Miyazaki watched Michael Dudok de Wit and Studio Ghibli's The Red Turtle (La Tortue rouge) animated film last month and commented that he wanted to return to work to make something with the film's staff. Miyazaki also praised Dudok de Wit's work when the two met earlier this week.
Suzuki reminded Miyazaki that he was retired. He stated that the comments were mostly idle wishes, not something Miyazaki was seriously considering.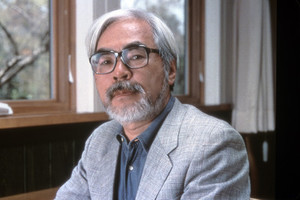 Miyazaki retired from directing feature films in 2013, but he later said that he will continue to make shorts for the Ghibli Museum.
Studio Ghibli producer Yoshiaki Nishimura revealed in an interview with UK news website Den of Geek in June that Miyazaki is planning three more shorts for the Ghibli Museum.
Sony Pictures Classics will screen The Red Turtle in North America starting on January 20, 2017.
Entertainment news website Deadline describes the film:
The dialogue-free picture centers on a man shipwrecked on a tropical island inhabited by turtles, crabs and birds. When he builds a wooden raft, he is confronted by the titular turtle. The story then follows the milestones in his life on the island which include meeting a woman and starting a family.
The Red Turtle is the latest work by award-winning Dutch animator and director Michael Dudok de Wit ("The Monk and the Fish," "Father & Daughter" animated shorts). Studio Ghibli co-produced the film with French film production and distribution company Wild Bunch (co-producers on The Secret World of Arrietty).
Director de Wit temporarily moved to Koganei in Tokyo (where Studio Ghibli is headquartered) to work on the film, completing the film's storyboards and the scenario in his time there, while Studio Ghibli director Isao Takahata checked them. Takahata also served as the "artistic producer" for the film. Pascale Ferran (Bird People) wrote the film's script.
The film screened at the Cannes Film Festival in May, and won the Special Jury Prize at the Un Certain Regard section of the festival. The film opened the 40th Annecy International Animation Film Festival in June.
The director's "Father & Daughter" short won the Academy Award for Best Animated Short Film in 2001. The Red Turtle is de Wit's first feature film.
TOHO streamed a Japanese teaser trailer for the film in May. The film is slated to open in Japan on September 17.
Source: Yahoo! News
---