News

Fukuda Wins Party Leadership Election over Manga Fan Asō

posted on by Egan Loo
---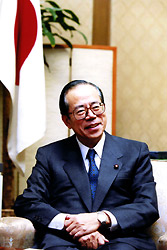 Moderate politician Yasuo Fukuda won the leadership election of Japan's ruling Liberal Democratic Party over nationalistic manga fan Tarō Asō on September 23, thus paving the way for Fukuda to become the next Prime Minister of Japan. He captured 330 votes, to Aso's 197. The formal transition could happen as early as Tuesday in Tokyo. Fukuda is best known for his conciliatory approach to Japan's neighboring countries, while Aso is known for his voracious manga reading habits and his controversial stances in foreign affairs. No formal announcement has been made on whether Asō would serve in the likely Fukuda government.
Hidekatsu Shibata, an anime voice actor (seiyū) famous for playing Mazinger Z's Baron Ashura, Mobile Suit Gundam's Degwin Zabi, and Fullmetal Alchemist's King Bradley, recalled Fukuda as a former classmate growing up. "I felt he was shy and didn't express his inner feelings. […] When the conversation turned to government or literature though, he would start talking excitedly."
Stocks of the Mandarake used manga store chain ended Monday at 405,000 yen, up 3.58% for the day, but down from 430,000-yen-plus high it reached after the last prime minister resigned. The Broccoli character goods maker's stocks stood at 99 yen, up from the 92-yen mark two weeks ago, but down from 157 yen at the height of the "Asō-related" speculation.
---
This article has a follow-up:
Prime Minister Fukuda to Govern without Manga Fan Asō
(2007-09-25 14:43)
follow-up of
Anime/Manga Stocks Drop as Asō's Rival Leads in Polls