News

Yen Press to Hold Haruhi Day at NYC Kinokuniya Saturday (Updated)

posted on by Gage
Event to mark the North American release of Haruhi Suzumiya manga
---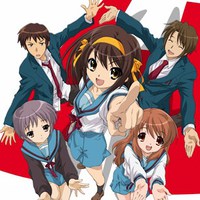 The North American publisher Yen Press will present Haruhi Day at the Kinokuniya Bookstore in New York City on October 18 from 3:00 to 6:00 p.m. ET. The event is intended to mark Yen's release of Gaku Tsugano's The Melancholy of Haruhi Suzumiya manga series later this month. The bookstore will host a screening of Bandai Entertainment's Haruhi anime release, giveaways, raffles, and a panel of Yen Press' editorial team. The sponsors are offering a US$100 Kinokuniya Bookstore gift card, a one-year subscription to Yen Plus, and other prizes.
Yen Press announced that it had acquired the Haruhi manga series in April, and it is working with Little, Brown Books for Young Readers to release the original novels by Nagaru Tanigawa and Noizi Ito. Bandai Entertainment released the anime version in North America in 2006, while a second anime project has been in development for over a year.
Source: New York Anime Fest blog
Image © 2006 Nagaru Tanigawa / Noizi Ito / member of SOS
Update: Yen Plus magazine's title corrected. Thanks, Ghstmtrx.
---