News

Astro Boy Mag iPhone App Now in UK, AU, Other Nations

posted on by Crystalyn Hodgkins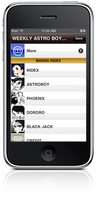 The Weekly Astro Boy Magazine application for the Apple iPhone and iPod touch mobile devices is now available on iTunes in the United Kingdom, Singapore, the Philippines, Indonesia, Malaysia, Australia, and New Zealand. The application features weekly installments of titles from manga pioneer Osamu Tezuka.
Ed Chavez, the marketing director of the North American manga publisher Vertical, reported in November that the application would be available in Europe in English and French in the summer of 2010, and then in Spanish and Italian "soon thereafter." The U.S. iTunes application launched in October 2009, and has included installments from Astro Boy (Mighty Atom), Black Jack, Phoenix, and other titles.
Chavez also noted that each country's selection of titles might be different from what the American version of the application has, but said the United States and the United Kingdom will have the same content.
Source: Weekly Astro Boy Magazine's Twitter
---