News

Beckii Cruel At London McM Expo

posted on by Andrew Osmond
British teen singer turned Japanese idol appears at MCM Expo.
---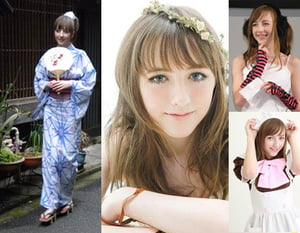 Beckii Cruel, the teenage girl from the Isle of Man who became a moe idol in Japan, will appear at the MCM Expo in London this month. Beckii (real name Rebecca Flint) first becaome famous for her youtube dance videos, before breaking into Japanese singles, DVDs and television. The Observer newspaper ran a story last year about her rise to fame (it notes that she first became interested in Japanese culture through the manga version of Fruits Basket.) She is interviewed here and here.
From the press release:
Teen sensation Beckii Cruel, who shot to superstar status in Japan after the nation fell in love with YouTube videos of her dancing to anime pop songs, is the latest special guest to be announced at the MCM Expo London Comic Con, appearing on both indoor and outdoor stages on the Saturday of the show. The Isle of Man schoolgirl has enjoyed idol status in Japan ever since a video of her dancing to popular Japanese Internet meme Danjo became a smash hit with fans and media alike. Beckii was brought to a mainstream UK audience last year, when the story of her incredible rise to fame was covered in a BBC Three documentary, Beckii: Schoolgirl Superstar.
MCM Expo runs at the Excel Centre in London's Docklands from May 27 to 29.
---
this article has been modified since it was originally posted; see change history