×
remind me tomorrow
remind me next week
never remind me
Subscribe to the ANN Newsletter • Wake up every Sunday to a curated list of ANN's most interesting posts of the week.
read more
News

Rock Band Flumpool Performs Captain Earth's Opening Song

posted on by Egan Loo
Japanese band offers its 1st anime opening to robot series by
Star Driver
team
---

The Japanese rock band flumpool announced on Monday that they are contributing their new song "Believers High" as the opening theme song for the Captain Earth television series from the anime studio Bones. The song will be on the band's The Best 2008-2014 "Monument" album when it ships on May 21. This will be the band's first opening theme song for an anime.
The band said the song carries a powerful melody to send a firm message, "always choose your own path going forward and then walk it." A video spot with this theme song will stream on the anime's official website this Saturday, March 15 at 6:00 p.m. (5 a.m. ET)
The popular band performed "Over the rain ~Hikari no Hashi~", a theme song for the manga-based live-action television series Bloody Monday in 2008.
The story of Captain Earth begin when second-year high school student Daichi Manatsu suddenly spies a mysterious circular rainbow floating in the skies over Tanegashima island on television, on the evening before summer vacation begins.
"I've seen that rainbow before…"
Moved by intense foreboding, he heads to Tanegashima, the home of Japan's Tanegashima Space Center, by himself. A 17-year-old boy named Teppei Arashi then asks why Daichi has returned to this island. Daichi replies that he came back to fulfill a promise.
The mystery of his father's accidental death. Memories of mysterious boys and girls he met during childhood. Daichi arrives at the island full of complex emotions, and as alarms sound at the center, he encounters the robot "Earth Engine."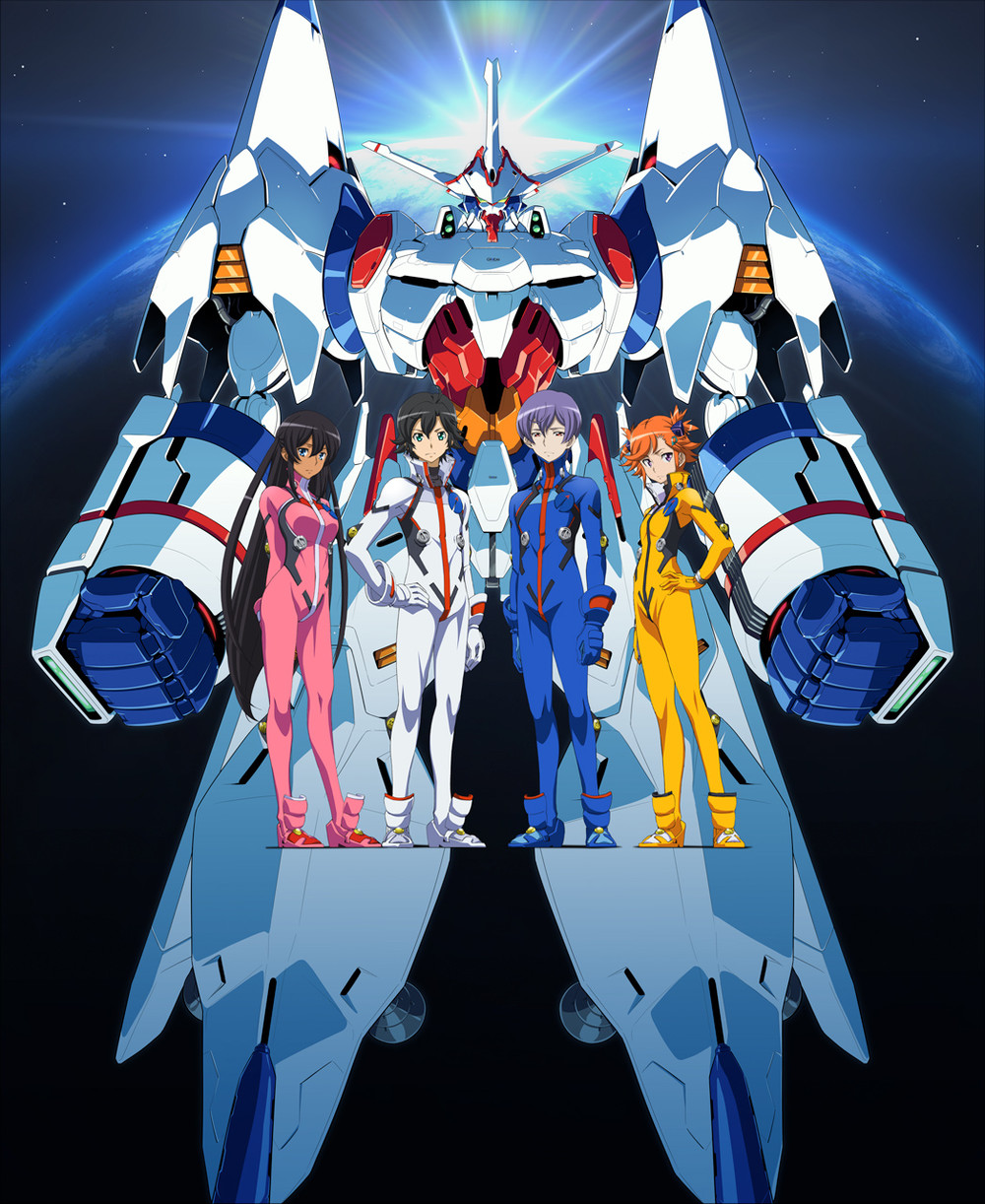 Daichi is asked, "Are you the Captain?" The target is the mysterious all-mechanical lifeform Kill-T-Gang that is invading from the orbit of Uranus. Now, when the stars in the skies are ablaze, the curtains open on their battle….
The cast includes:

Miyu Irino
as Daichi Manatsu, a 17-year-old second-year high school student who becomes a pilot of Earth Engine, a general-purpose manned Impacter

Hiroshi Kamiya
as Teppei Arashi, a 17-year-old boy who harbors powers beyond those of humans, as well as a sense of alienation


Ai Kayano as Hana Mutō, a girl who looks 17 years old, but whose true identity is unknown



Rina Hidaka as Akari Yomatsuri, a 17-year-old genius hacker



Rikiya Koyama as Tsutomu Nishikubo, the commander of the Globe Tanegashima Base and a close friend of Daichi's father and Daichi



Kenichi Suzumura as Amara, a Kill-T-Gang Amarokku humanoid and the Planetary Gear Device leader



Maaya Sakamoto as Moco, a Kill-T-Gang Mōrukin humanoid who despises Daichi. She is the first Kill-T-Gang.

BONES is reuniting Star Driver's director Takuya Igarashi and series script supervisor Yoji Enokido for this project. The two also collaborated in Ouran High School Host Club and Sailor Moon Super S. Enokido said that, whereas Star Driver was a "school robot" story, they are now doing a conventional robot anime.
Satoshi Ishino is adapting Fumi Minato's original character designs for animation, and he is also the chief animation director. A Star Driver veteran, Shigeto Koyama, designed the Earth Engine and other Engine Series mecha, while Takayuki Yanase handled the Machine Goodfellow designs and other mecha. Shinji Aramaki and Takeshi Takakura are the other mechanical designers. Masaki Asai and Takeshi Yoshioka designed the enemy Kirutogangu, and the artist okama is contributing concept designs. Tsuyoshi Kusano is the graphic designer, and Masatsugu Saitō is credited for design works.
Yasushi Muraki is directing the effects, while Masaru Yanaka and Koji Eto are in charge of the art with art designer Takeshi Takahashi. Shihoko Nakayama is the color key artist, and Tsuyoshi Kanbayashi is the director of photography. Kōki Ōta is directing the CGI, and Yoshiyuki Asai is serving as the director's assistant. Shigeru Nishiyama is the editor.
Kazuhiro Wakabayashi is the sound director, and Shizuo Kurahashi is handling the sound effects. Satoru Kousaki of monaca is scoring the soundtrack.
The television series will premiere in April.

Source: animeanime.jp
Images © Bones/Captain Earth Committee, MBS
---