News

Hero Bank TV Anime 1st Promo Streamed

posted on by Sarah Nelkin
Anime about young boy who must join battles to pay off large debt of yen
---
TV Tokyo began streaming the first promotional video for the anime adaptation of Sega's Hero Bank 3DS game on Thursday.
Professional karate fighter Nobuaki Kakuda will perform the anime's opening theme, "Kasege! Jarinko Hero" (Make Money, Dunce Hero!), while meg will perform the ending theme, "Sayonara Mata Itsuka" (Goodbye, We'll Meet Again Someday).
The anime centers around Kaito, an elementary school boy who is suddenly burdened with 10 billion yen (about US$100 million) in debt one day. The only way he can pay off the debt is to master "Hero-Gi" (downloaded off the net) and win matches in "Hero Battle," a new-generation cyber sport. The tagline of the game "Change your money with justice!"
The anime will premiere on April 7 on TV Tokyo and its related channels, and will air every Wednesday.
The anime will star:

Yuko Sanpei as Kaito Kōshō, the hero of the story. He's super energetic and over-confident, but he has earned a great trust from his allies.

Hiroshi Kamiya as Nagare Amano, an 11-year old who is the childhood friend of Kaito. He looks up to Kaito's energy. However, at times, a strange man called "Money Ghost" appears in front of him.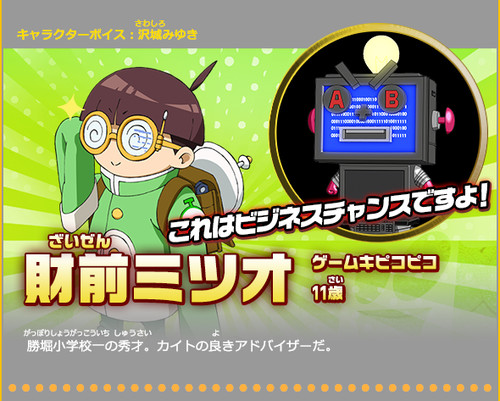 Miyuki Sawashiro as Mitsuo Zaizen, one of Kaito's companions. The brainy one. He acts as Kaito's adviser.

Kazuya Nakai as Fukuta Kanemaru, one of Kaito's companions. The brawny one.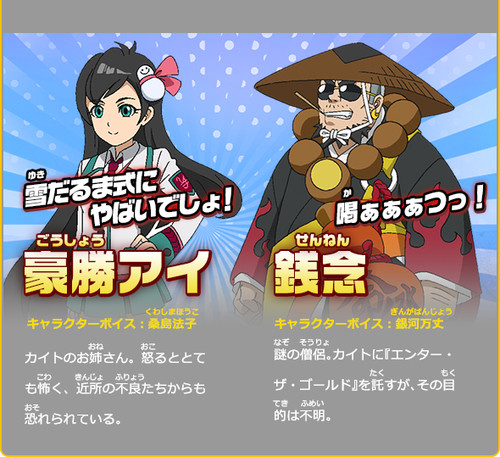 Banjou Ginga as Sennen (right) and Houko Kuwashima as Ai Kōshō (left). Kaito owes 10 billion yen to Sennen, who is strangely familiar with the system of Hero Bank, while Ai is Kaito's sister who is kind, but frightens him the most.
Yasutaka Yamamoto will direct the series TMS Animation, while Atsuhiro Tomioka will be in charge of series composition.
The original Nintendo 3DS game was released in Japan by Sega on Wednesday.
---