News

Sword Art Online: Hollow Realization Slated for November 8 in the West

posted on by Karen Ressler
Preorder bonuses for N. America, Europe revealed
---
Bandai Namco Entertainment announced on Monday that the Sword Art Online: Hollow Realization game will launch on November 8 in North America and Europe. The game will be available physically and digitally for both PlayStation 4 and PlayStation Vita in Europe. In North America, the game will be available physically and digitally on PlayStation 4 and digitally on PlayStation Vita.
The company also announced the western preorder bonuses. In North America, players who preorder the game will receive a costume pack including "maid" and "nightwear" costumes for Asuna, and God Eater costumes that make female characters appear as Livie and male characters appear as Soma.

European preorder bonuses include the God Eater and "nightwear" costumes, as well as an A4-size lithography signed by Sword Art Online creator Reki Kawahara.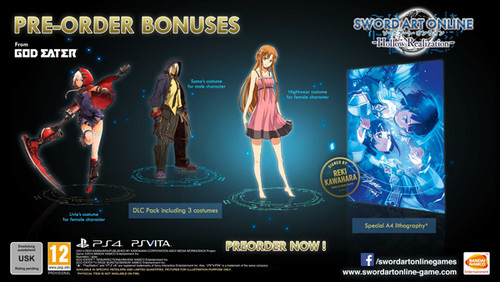 The game will feature Japanese voices with English, French, German, Italian, and Spanish text.
A collector's edition of the game will ship in North America. The collector's edition includes: six-inch Kirito and Asuna figures, collector's edition packaging, a bonus Blu-ray Disc, a soundtrack, mini posters, decal sheets, and an artbook. In Europe, the collector's edition will just include the six-inch Kirito and Asuna figures and collector's edition packaging as bonuses. The collector's editions are only available for the PS4 edition of the game.

The game's new characters are an NPC named Premiere (pictured below, voiced by Yuiko Tatsumi) and Genesis (voiced by Kazuyuki Okitsu). Genesis, like Kirito, is called the "black swordsman."

Luna Haruna is performing the game's theme song "Windia."
The game will ship in Japan on October 27. Both the PS4 and PS Vita editions will be available in regular and limited editions. The limited editions will include a box art illustrated by abec, a soundtrack CD, a special contents Blu-ray Disc, a special case for the Blu-ray Disc and CD, a "Dengeki Nerve Gear vol.4" pamphlet, and mini clear posters. Those who order the game early will get a product code for an additional costume.
The game is also getting a manga adaptation starting in late October in the new Sword Art Online magazine.
[Via Gematsu]
---