Madman to Fans: We Want You... To VOTE!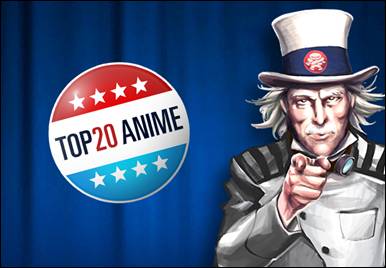 MELBOURNE, Thursday, 8 March 2012: From today, anime fans across Australia (and the world) will converge on
www.madman.com.au/top20
to take part in an unprecedented online voting event – to give the voice to the people and determine, once and for all, the 'Top 20 Anime' titles of all time!
For the next month, Madman will play host to the voting competition - which features 100 anime titles from the Madman catalogue, spanning decades of pedigree, popularity and performance - and includes the likes of AKIRA, EVANGELION, ASTRO BOY, DRAGON BALL Z and many more. There is also a 'wild card' entry for fans who feel strongly about something not included in the initial list of titles.
When polling closes on 5th April, a countdown will begin, revealing a new anime each day until the coveted number one spot is revealed. Voting is simple and effortlessly integrated with Facebook. Madman will be giving away daily spot prizes for voters' comments, and on day 20 of the countdown, one lucky voter will win all 20 titles from the final list.
The voting competition is now live at
www.madman.com.au/top20
.
---