Daisuki.net to announce streaming of Aniplex' Hanamonogatari
August 20, 2014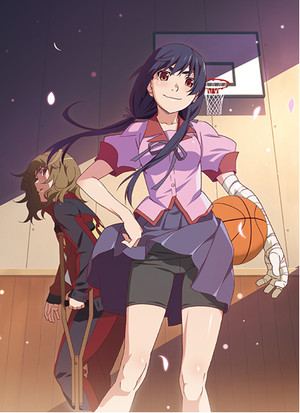 DAISUKI.NET, the Japanese Animation official distribution site announced today that it will stream Aniplex' title Hanamonogatari, the latest five episode story arc of the Monogatari franchise.
About Hanamonogatari:
The bee apparition is now gone, and summer vacation where the phoenix apparition everted harm is over— Around Koyomi Araragi and the girls who started a new trimester, apparitions, or perhaps threats even worse, were creeping in ever closer. Tsubasa Hanekawa, Mayoi Hachikuji, Suruga Kanbaru, Nadeko Sengoku, Shinobu Oshino, and Hitagi Senjyogahara.Their soliloquies, confessions – and farewells. 6 new stories are starting now.
Streaming of Hanamonogatari will premiere on August 21 (Thu) at 12:00 JST and will be available for free and with English subtitles for registered as well as unregistered users. Hanamonogatari consists of 5 episodes which will be uploaded at once. The streaming area is as follows: USA, Canada, UK, Ireland, Australia, New Zealand and South Africa. The episodes will be available on DAISUKI's website (www.DAISUKI.net) and on the free DAISUKI iOS app. Registered users with a free DAISUKI ID can watch the episodes in 1080p full HD.
For more information about MONOGATARI SERIES please go to: http://www.aniplexusa.com/monogatari/
©NISIOISIN/KODANSHA, ANIPLEX, SHAFT
About DAISUKI Inc.
DAISUKI.net is the only Japanese based anime-streaming site offering a wide range of new and classic anime for global audiences. Founded by the Japanese companies Aniplex Inc., SUNRISE INC., TOEI ANIMATION Co., LTD., TMS ENTERTAINMENT CO., LTD., NIHON AD SYSTEMS INC., DENTSU INC. and ASATSU-DK INC., DAISUKI.net's goal is to expand the medium by making anime legally available worldwide and providing merchandise through a robust e-commerce platform. DAISUKI.net is currently streaming titles such as PUELLA MAGI MADOKA MAGICA, ONE PIECE, DRAGON BALL Z, SWORD ART ONLINE 2, M3 the dark metal, Persona 4 the Golden Animation, Kill la Kill, SUSHI NINJA, BUDDY COMPLEX and more. Visit http://www.daisuki.net to see the full selection of titles.
---
discuss this in the forum (1 post)
|