×
remind me tomorrow
remind me next week
never remind me
Subscribe to the ANN Newsletter • Wake up every Sunday to a curated list of ANN's most interesting posts of the week.
read more
The Gallery
Mason Hyodo
by Evan Miller,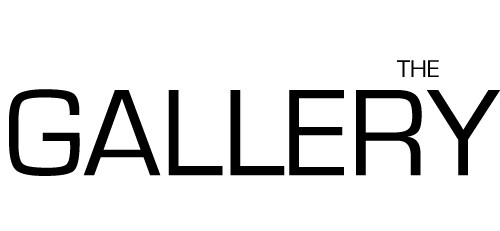 After a long, long week of work, I'm happy to say that I have a relaxing weekend of fun planned. It should balance out the mayhem of New York Anime Festival (next weekend) quite nicely. While NYAF promises to be busy, there are bound to be highlights - not the least of which is another round of Karaoke with the rest of the ANN staff. While I won't name names, I can say without hesitation that everyone who works for this site sings beautifully. I'd offer to share more details, but I think that a contract would be taken out on my life if I did. As for me, I'll probably bust out some old school Pizzicato Five and Jamiroquai - nothing clears the mind quite as well as kitschy, soulful pop music.
Our featured artist for the week comes from a land where Karaoke is a national past time, and the road for an aspiring manga artist is completely different.
---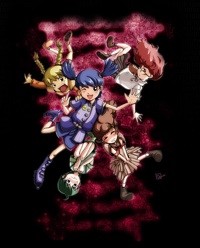 Cast of

Amber-Tuned Jazz
Mason Hyodo has had a pretty limited exposure to the Artist Alley community in the United States. He had his first table at
Anime Expo
last year, and the experience was a lot of fun. For Mason, the experience also served as a reflection on another event he participated in: helping with a table at Japan's infamously large manga hobbyist gathering,
Comiket
.
"I think that a lot of big name manga artists would enjoy the North American conventions more," says Hyodo, who was quick to draw attention to the culture shock he experienced when he saw cosplayers at Anime Expo walking the streets of Los Angeles instead of bringing their costumes to the convention center and changing there discreetly (as they do in Japan). "People here are truly enjoying their hobby from the heart, with no reservations. You can feel the energy here."
Born and raised in Japan, Hyodo's path to drawing his own manga began much like many other Japanese boys. While growing up, he got interested in the Jojo's Bizzare Adventure manga, Spriggan, and Dragon Ball. He also took interest in the character design work of Yoshinori Kanemori, who earned fame from his work on TV anime Yawara. Hyodo's exposure to manga was mixed with exposure to all kinds of foreign media, such as the novelization of the popular 80's era film Ghostbusters and countless novels. His interest naturally led him to trying his hand at drawing, which he often did with the friends whom he accompanied to Comiket.
After finishing his first year of high school in Japan, Mason Hyodo made a big decision: to move to California to finish high school. The transition involved a host of transitions, including living with a host family for three years and adjusting to the many differences of daily student life in the United States. Although the change was a big one, certain parts of life didn't change - such as his devotion to art.
After finishing school, Hyodo entered the Laguna College of Art and Design in Laguna Beach, California to study commercial illustration. At first, he found himself working with designs for picture books and similar media, but at the same time, he found his way back to the world of comics. While attending college, Hyodo began to draw up plans for a graphic novel called Amber-Tuned Jazz.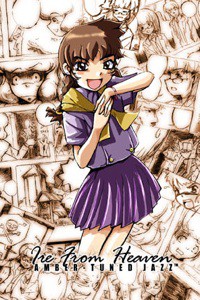 ATJ Promo Poster
The story first took form as a set of interweaving narratives about various characters involved with an international police case. Hyodo showed the story to friends, most of whom were extremely impressed with his drawing and storytelling abilities. However, reality intervened, and Hyodo ended up setting the project - and manga - aside as he worked towards graduation. His hard work earned him a job with the Japanese video game company Atlus, where he is currently working in game localization.
While Hyodo's new responsibilities kept him busy, the move to Atlus ended up reviving his work. His work was seen by many friends, and praise from readers kept coming in. Still, he wasn't sure what to do with the now years-old storyline of Amber-Tuned Jazz. It was then that Atlus coworker and manga artist Eikyuu Hyo suggested that he try selling his art in Anime Expo's Artist Alley. After taking all the praise from friends into account, Hyodo picked up the pen and went back to the world of Amber-Tuned Jazz - but with a different focus.
For the new version of Amber-Tuned Jazz, Hyodo set out to create an original manga focused around an LA cop named Priss, who is responsible for guarding a mysterious guest from Japan during her time in the United States. Hyodo found himself influenced by many of the manga, movies and novels that he had been exposed to through life. He again cites Yoshinori Kanemori's work as one of the things that influenced the development of the manga, which took about a month of hard work that Hyodo found himself working on late into the night after a full day of work at Atlus.
The hard work paid off in more ways than one. Not only was feedback for the manga from Anime Expo good, but it also caught the eye of one of Hyodo's friends back in Japan. The friend quickly set to work on developing a third incarnation of the Amber-Tuned Jazz series: a PC video game, which is scheduled for completion in Spring 2009. The game, an independently-produced adventure title, will have a different story from both the manga and Hyodo's planned graphic novel, but the details are still in development.
Regardless, Hyodo is happy that his friends kept encouraging him: "In Japan, everyone is so serious at events like Comiket," he says, before adding with a smile, "Here, people are more frank, and they remember who you are." With a manga and a game already on his list of accomplishments, it's safe to assume that Mason Hyodo's work will become memorable in the minds of congoers for years to come.
---
IN DEPTH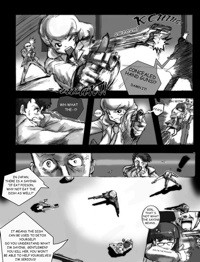 Poison Ivy League (sample page)
ANN: Tell us a little bit about the process of developing the Amber-Tuned Jazz manga. What did you set out to do differently from the original work, and did it turn out how you planned?
Mason Hyodo: Amber-Tuned Jazz (ATJ for short) started as an omnibus-styled graphic novel. Each episode features different protagonists to show a different atmosphere and point of view. However, each story uses multiculturalism and diversity as a key plot element. For instance, Priscilla Zwick, the comic's protagonist, is a multilingual LAPD liaison, who is constantly faced with international incidents as a result. In the comic, she's assigned to aid Agasa, a Japanese girl who is determined to recover her stolen "luggage"... but she can't speak English at all. Agasa is a very curious girl and everything Pris, the "all-American girl," does seems to amaze her. The narrative also plays a big part in the ATJ series. The comic is edited by Jamie Ortiz, a professional and experienced localization editor at Atlus U.S.A. He and I tried to create a "pseudo-hard-boiled" speech style for the comic. Most of my previous ATJ novel's protagonists were teenagers, so the "hard-boiled" dialogue for the comic was quite different and fun for me to work on.
ANN: Do you find that your professional work at Atlus influences how you present your characters and vice versa?
MH: Yes. Working at Atlus gives me a huge variety of different kinds of experiences. For instance, when you see dialogue in the video games, most of them are in a small rectangular box. Translators and editors at Atlus work together very closely to turn Japanese into English so that North American fans will get the full, true intentions of the original dialogue. We check the translated dialogue over and over again to assure its quality. And that's what I do without realizing when I draw the rough draft of the comic. I try to read the comic as if it was someone else's creation, to see if my true intentions are clear enough for the audience. But of course, when you are drawing a action-comedy, you get carried away often... deviating far from the early concept. (laughs)
ANN: For drawing up your comic, what kind of Media Do you prefer to use, and what kind of media would you like to try using in the future?
MH: I usually use a mechanical pencil to do the rough drawing and fine-point Pigma pens for ink outlining. Then I scan the drawing into my PC. From there, I use Adobe Photoshop - you can draw, paint, design and even write nicely with it. It takes practice to master, but learning new techniques is always fun for me. So I never felt that it was painful. I want to learn to create Flash games next.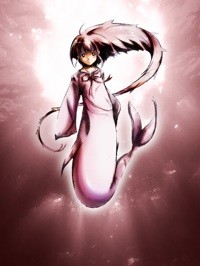 Mermaid
ANN: The PC Game adaptation for Amber-Tuned Jazz is scheduled for release next year. If you were to create another original story with the intent of adapting it into a game, what kind of setting and characters would you like to experiment with?
MH: There is a story that I'm writing now for the PC game. It's called "Audible Psylence" and it's a horror story that takes place in a college. At the center of the story is "sounds you can't hear." For now, let's leave it at that... And again, just like ATJ, it consists of a variety of characters with multicultural backgrounds, including a Japanese boy who can't yet speak English well.
ANN: Have you noticed any key similarities and differences between artists at Japanese events (such as Comiket) and artists in the Artist Alley at US shows?
MH: The difference seems quite clear to me. The main focus for most of the artists at Japanese events is "sales" now. How much money they make there is more important than how many visitors they meet. So they don't really bother chatting with their customers, and just concentrate on selling their stuff. But at US events, artists take time to mingle with their customers and share information and opinions. For me, chatting with visitors was the most fun part. You get to talk to so many people and get their honest opinions. That interaction is something you can't pay to get outside the events! When I attended an event in Japan after attending AX, I felt kinda lonely, because no one wants to take time to talk. It was more like a silent flea market than a convention event! (laughs)
---
For a closer look at Mason's work - in both English and Japanese - check out his official website right here.
---
Are you an aspiring manga artist looking for some extra page views? Do you have a friend or loved one who draws extremely good original manga but needs a boost? Don't just sit there! Submit two links to your work, including one original piece (no file attachments please! File attachments shall be baked inside small custard buns and sold to the public), to evan [at] animenewsnetwork dot com, and you could be featured in a future Gallery column!
All works © Mason Hyodo.
---
discuss this in the forum (5 posts)
|