The Gallery
Azusa Ogawa
by Evan Miller,
Well folks, AX is almost upon us! For many congoers, that means a trip or two to the Artist's Alley to buy something pretty. However, there are those amongst us who aren't as familiar with the alley - the types who walk in, see all of the fan art, get intimidated and eventually dismiss the hall after "looking" for five minutes. Don't worry, my friends. We've got your back this year. The Gallery is proud to present...
The Gallery AX '09 Alley Shopping Guide!
That's right - instead of just reading about the art I've been telling you about for the past year, now you can actually go buy some of it! All of the artists who have been featured in this column (well, the ones who will be at AX at least) that have a table in Artist's Alley are marked on the handy dandy map seen to your left. Click the map for a bigger, saveable, printable version of the map. A few artists will also be in the Exhibit Hall; their locations are indicated on the map as well. In case you don't remember what their work looks like, here's a quick rundown of the artists with links to their articles, and where they'll be:
While you're at it, come to the official ANN Panel on Thursday at 6PM in Live Programming 3 and say hi to the whole ANN posse. We'd like that.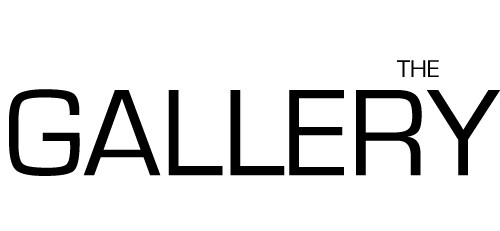 This week, we welcome an artist who splits her time between the US and Japan who has some interesting insights into just what makes art "western" and "Japanese." Please give a warm welcome to...
---


Profile

Color: Blue!!!


Tools of the trade: pencil, pen, PC, something sweet to nibble on while drawing, my sanity and a bit of insanity
Favorite kind of Ramen: ton-kotsu
While drawing, I listen to: Forces from the anime Beserk
Guilty pleasure: ice cream late at night
Pet Peeve: drama queens, people who spit, and Japanese girls who talk in squeaky anime voices in real life. Anime voices are for anime only!!
Thing you miss most about the states when you are in Japan: In&Out Burger

Favorite convention memory: People from the previous year coming back to my table :)

Afro Princess

 
Although the number of amateur artists in North America working in a "Japanese manga" style continues to grow, the stigma over how to draw the line between what is and isn't "manga" remains. As the forum debate that followed my interview of Felipe Smith showed, there are more than a few people in the western world that view manga as an exclusively Japanese creation, and the debate over how to best label the "manga style" is argued with as much passion today as it was when publishers first began publishing "OEL" manga. As an artist of Japanese descent who grew up in the United States, Azusa Ogawa has never been one to argue the issue of what constitutes "manga," but she is all too familiar with having her work described in ethnocentric terms. "My friends say that my work looks like a mix of American and Japanese styles," says Azusa, who has found herself editing her style numerous times because someone thought it looked too Japanese - or not Japanese enough. Despite their presence, Azusa's stock in the world of art hasn't been hindered by the labels her work has been given. She's drawn the art for a Japanese children's book for publishing house Bungeisha, and the second volume of her manga chronicling her experiences as an English teacher in Japan is finding a strong audience at anime convention Artist Alleys in the US. Even though she is not an artist at her "day job," she's kept up a routine of searching for new outlets for her work - and thus far, she's succeeded.

What Pigs Dream Of
After she was born in Japan, Azusa and her family moved to California when she was just three. She remembers seeing anime and manga in Japan, but she admits that she wasn't what you would call a passionate fan. "Drawing was a way to kill time for me when I was growing up," says Azusa, who watched animation - both Japanese and American - in passing. She remembers watching Gundam when she was young, since her mother was a big fan of the hit mecha series. Still, the young Azusa approached art mainly as a way to relax, and says that the influences on her style are difficult to pin down as a result. However, she does admit that she has an admiration for manga artists who push themselves to devote equal energy to every step of the drawing process. "I have a lot of respect for Masashi Kishimoto [Naruto], since he can do perspectives in his art without using screen tones," says Azusa, adding that although she doesn't aim to "copy" anyone's style, she does admire artists who aspire to do more and cut corners less. As she finished high school and continued to use art as a way to kill time and relax, Azusa began college with the intent of majoring in Psychology. However, after realizing how long it could take to find substantial work in the field, she began looking for another major she could take passion in. In the end, she decided to return to the field that helped her get through moments of boredom her entire life - art. She enrolled in the Illustration program at San Jose State University, and began to prepare for a rigorous lesson in just how much time and sanity a life in the arts could take.

Kinmokusei no saku koro ni
Upon entering SJSU, Azusa soon discovered that her professors were going to have the bite to back up their bark. "Once we were working on a project that we believed we could never finish by the deadline," remembers Azusa. "Our professor asked us, 'If I was standing here with a gun in my hand and said, "FINISH," could you do it?' Of course we answered yes, and then he answers, 'Because that is what the real world is like.' Needless to say, we finished the project." Although Azusa was able to catch on to the strenuous requirements set forth by her professors, her biggest struggle was yet to come. After spending her entire life developing a personal style that was more or less influenced by chance and the desire to kill time, one professor interpreted her style as "Japanese anime." "It was ironic," says Azusa, "since my Japanese friends kept telling me that my work looked American." Regardless of what her friends thought, Azusa's professor had applied the "anime" label to her work, and it would soon prove damning. Whenever she tried to not draw what her professor termed "anime" intentionally, things soon fell apart. Faced with the choice to draw in an unnatural way or keep trying to edit what she had, Azusa decided to return to her roots and draw from scratch, and let the image become what it would, regardless of the label her professor gave it. One semester later, another professor encouraged her to try other styles and techniques while accepting her artistic background, and it wasn't long before Azusa was working comfortably again. "It was all about a difference in the encouragement I was getting," she says, "it's all about getting into the right mind set." Adapted to the rigors of life as a professional artist, Azusa graduated and settled into an internship at Fox Racing Inc. Although the work at Fox went well, Azusa found herself back in Japan with her family a while later after she was unable to secure full time work in the United States, and soon began a routine of splitting her time between the United States and Japan every year.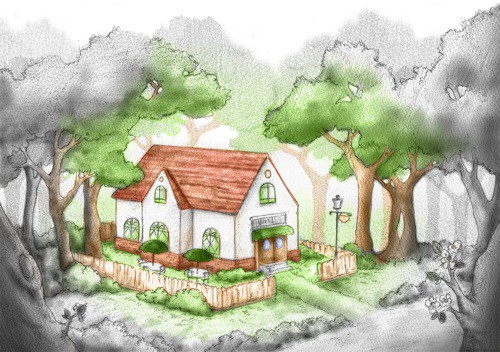 Kinmokusei no saku koro ni
Upon returning to Japan, Azusa quickly found work as an English teacher, and although the job helped pay the bills, it didn't allow her much of an artistic outlet. Determined to keep developing her style, she started submitting her original work to illustration contests held by Japanese publishing houses. It took a while, but Azusa's work eventually earned the attention of Bungeisha, a Japanese publishing company that would go on to publish a postcard book of her drawings. Shortly after the publication of her postcard book, Bungeisha recruited Azusa to provide illustrations for a children's story titled Kinmokusei no saku koro ni (When The Kinmokusei Bloom), since they felt that her style would match the mood of the story. However, the project soon became another episode where an ethnic label of Azusa's work would influence its look. After reading the story, Azusa began crafting images to fit the Japanese setting of the story. Although the images looked good, the author of the story, Kayo Yasutomi, had a different look in mind for the book. "The story was set in Japan, but [Yasutomi] wanted a 'Little House on the Prairie' look," remembers Azusa, adding, "my mother actually thought that my first drawings for the story looked European." Since all edits to the story images went through editors at Bungeisha, the project took a little more time than both Azusa and Yasutomi anticipated. Still, the two creators eventually created a look that they were both satisfied with, and the story hit shelves in 2008.
Meanwhile, Azusa found herself spending a great deal of her time in the United States on anime conventions, where friends had suggested that she sell her work to the fan community. After having a good time at her first Anime Expo, Azusa became a regular attendee at FanimeCon, Anime Expo, and other conventions that she fit into her schedule as her time allowed. Although she focused her sales on fan art primarily, her close friend and fellow artist Mai Namba encouraged her to produce her own original work for convention sales. After toying with a few story ideas, the artist whose work had been called European, Anime, Western, and Japanese settled on a cross-cultural topic of her own: the misadventures and humorous anecdotes from her day job as an English conversation teacher. After collecting some of her favorite tales, drawing them out, and changing names to protect the innocent, she put the finished product into manga form and gave it the title The Z-Files. The stories struck an instant chord with congoers who were familiar with the bizzare world of Japanese "engrish," and Azusa ended up selling a good number of books to people who were planning their own trip to Japan. Although Z-Files is filled with dramatic expressions, explosions, and faces, there's one face that the reader doesn't see too often: that of the author, who goes by "Zeus" in the manga. "I've been drawing myself like that for a while," says Azusa, who admits that the second volume of Z-Files includes a few shots of Zeus with eyes for dramatic effect.
It seems fitting that Azusa still draws herself as she always has in her latest work. She's faced a lot of criticism and her style has developed as a result, but in the end, she's still the same artist she's always been: a talent who has stuck to her roots even as she shifts her style to fit the times. "I just want to keep doing art," says Azusa, who hopes to create her own original manga in the future after Z-Files has run its course. In the meantime, she says that the elements and images in her work are just as personal as they have always been. "The pig image is still one of my favorites, just because it's related to my own thoughts," says Azusa, who says that the piece "What Pigs Dream Of" could be called "What I Dream Of" just as easily. Perhaps Azusa's experiences remind us that, no matter what the label, high quality art can be appreciated regardless of the nationality of the person who produces it - which is also why Azusa's work should continue to find an audience on both sides of the Pacific for years to come.

---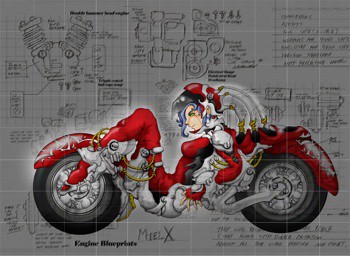 Biker Girl
ANN: You told me that you changed the bike image seen here from an original you worked on for Fox Racing. How does your image differ from the first one you drew, and which change from the original do you think best reflects your attitude as an artist?
Azusa Ogawa: I added more details to the engine section and patterns for the wheels. I have no knowledge when it comes to engine parts (or any type of machinery), so I looked at many bike images and bike shows (like American Chopper) to get references and ideas. I believe going through the extra reference-gathering/idea searching process is very important, and because of that extra step, I think the final image becomes more "believable" in a way.
ANN: In our discussion about Kinmokusei no Saku koro ni, we talked a bit about the different visions of the story that you and the author had. What was the trickiest change you had to make, and do you think your experience reflects a difference between how children's books are perceived in Japan and other countries?
Azusa: The setting of the story was in Japan, and the character's names were Japanese as well, so when I read the story the first image I had in my head was an old-fashioned Japanese house with a little old lady wearing a kimono. The author, on the other hand, had a more European image in mind of an old lady with an apron dress living in a small cottage-like house. It was difficult for me to avoid everything that would make the images look like it was in Japan. Even though the story does take place in Japan, I could tell that the author really admires the European-country-style, and that's what she wanted in the images. It was difficult for me to ignore that the setting was supposed to be in Japan, yet the author didn't want it to look like Japan at all. At one point, I just started telling myself "The setting of this story is somewhere in Europe," and once I let go, it got easier. It was a little tough when my mother would look over my shoulder, peek at the drawings and say things like, "Where is that, Germany? England? I thought the story was in Japan."
As for the second part of the question, my answer is simply "I don't think so, but to be honest I'm not sure" Sorry!! :P For me, a childeren's book is simple a way for kids to enjoy a good story and hopefully gain something from it, and I hope that is the same with every country.

Moon
ANN: You've been drawing original works for illustration contests for a while now. Typically, what inspires each image you create for these contests, and which image was the most difficult to bring to life?
Azusa: I get ideas and inspiration from everything and anything, and it just comes randomly, sometimes at the most unexpected places like when I'm taking a shower, simply eating breakfast with my friend, etc etc. In some cases when I try to get an image ready for a contest, I ask questions of people around me (in most cases, people who are not in the art field because they tend to think outside the box more). For example, if the theme of the contest was flower or moon, I would ask "What is the first thing that comes up in your mind when you hear the word flower?" I take their answers, go to Starbucks (with a friend) and brainstorm. In other cases I just sit down and watch TV or look at images online, and a good idea would pop up suddenly. It's random!
The pig image was very difficult because there were so many things I wanted to add in the image (mostly the candies and the sweet goodies), and even though I clearly knew what I wanted in the image and that I wanted to add in a lot of things, I didn't want to make it look too busy and crowded. I guess deciding where to stop is always the hardest part.

ANN: In The Z-Files, some of the gags center around cultural misunderstandings. As someone with a very unique perspective on the differences between Japan and the USA, have you noticed any misconceptions of Japanese culture among North American anime fans that a Japanese audience might find funny or strange?
Azusa: There is quite a lot of that - there are so many answers to this one! There were several cases where I saw the wrong kanji characters being used in some art pieces/images (or they are written in the wrong way), or strange kanji tattoos where it makes me wonder if the person is aware of the meaning. I remember one girl having the tattoo "obnoxious" on the back of her neck. Girls at conventions wearing kimonos the wrong way is another example (the left side is supposed to be on top, the right-side-up way is only for dead people). In some cases, I have come across people who believe that ninjas and samurais still exist in Japan (they don't....well, not that I know of!!), and people do sometime believe they have super immortal powers and abilities. It's true that samurai and ninjas did go through all kinds of training, but they were still normal humans, just like us!! I've also seen people at the cons dressed up as samurais and ninjas, but they bow in a Chinese way, and so on.

Dog Ride
---
Azusa's latest work can be found on her Deviant Art page here. If you want to check out Kinmokusei (Japanese only), Amazon Japan carries it here. Oh, and she'll be at Anime Expo next weekend... but you probably guessed that already.
---
Are you an aspiring manga artist looking for some extra page views? Do you have a friend or loved one who draws extremely good original manga but needs a boost? Don't just sit there! Submit two links to your work, including one original piece (no file attachments please! File attachments will be thrown at the smelliest guy with a "HUG ME" sign that we can find at AX or Otakon), to evan [at] animenewsnetwork dot com, and you could be featured in a future Gallery column!
All works © Azusa Ogawa.
---
this article has been modified since it was originally posted; see change history