×
remind me tomorrow
remind me next week
never remind me
Subscribe to the ANN Newsletter • Wake up every Sunday to a curated list of ANN's most interesting posts of the week.
read more
The Gallery
Becky Cloonan
by Evan Miller,
The holiday is already upon us, it seems. The Gallery at ANN wishes you a merry holiday that is full of egg nog and short on drama.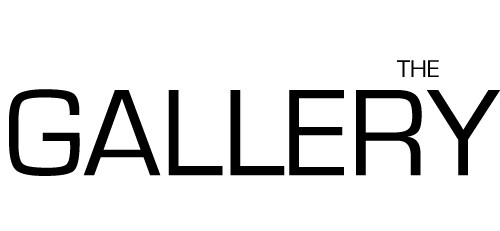 My esteemed guest for this week is an Eisner Award winner and one of the most intriguing women working in comics today. She's the artist for a diverse catalog of titles, including the fantasy-themed East Coast Rising! for Tokyopop (which she also wrote), a comedy webcomic about a Korean boy band (co-produced with Hwan Cho), and the dramatic series Demo for Vertigo. She's also one of the minds behind the action-horror tale Pixu. Coming to us from Brooklyn, please welcome...
---


Profile

Nicknames: Actually, Becky is my nickname. My real name is Wolfgang.


Color: Red
Tools of the trade: Winsor & Newton Series Seven #2 brush, india ink.
Something you wanted for Xmas when you were younger: Books. I read a lot.
While drawing, I listen to: Enough metal to build a bomb shelter.
Guilty pleasure: Power ballads.
Pet Peeve: When people chew with their mouths open.
Something you watch when you need to relax: Anything narrated by David Attenborough.

If you could have a beer with any famous historical figure, it would be: Atilla the Hun - I heard he was a great host.

East Coast Rising!

 

Pixu
For many comic industry observers, the advent of anime and manga came along around the same time that the comics world began to escape from the shackles of the Superman and Archie stereotypes that had colored the industry for decades. How much of a role manga played in this change is debatable; what is important is that the diversity of titles, indie publishers, and styles that took root in the comics community along with manga finally opened the door in terms of what people could draw and have published. Of course, all of this is for naught if an artist is lacking confidence or drive. Perhaps this is why Becky Cloonan has been such a success. After being inspired by manga and comics as a child, she made a space for herself in the comics world as soon as she was able, refusing to limit her work to a specific style, theme, or genre. She admits that life as a full time artist isn't for the faint of heart, but that she could never picture herself working in a different field. "I always knew that I wanted to be an artist," says Becky, whose hard work was recognized with the highest honor in the industry - an Eisner award - in 2008. She admits that working for big publishers and keeping up with bills has affected her work, but she hasn't stopped self-publishing either, devoting chunks of her free time to self-published projects as well as a webcomic co-written with her friend Hwan Cho called KGB. "Back [when I got started] comics were my hobby, and now they're my job, so my mentality towards them has changed," says Becky, adding, "but at the same time I love drawing them just the same." Indeed, Becky is an example of just how far an artist can go when a love for the medium of comics is combined with copious amounts of work and patience.
Raised in New England, Becky's love for art and comics were made apparent early in her life; she spent hours sketching everything from dinosaurs to unicorns - even when she wasn't supposed to. "When I was at my mom's house not too long ago, I found a bunch of old report cards from my teachers saying that I 'need to pay attention and stop drawing' in class," Becky admits, recalling her early addiction to drawing. As she puts it, even the other fields she dreamed of going into as a child - such as Paleontology - involved drawing and art in some way. After growing up reading fantasy books by authors like Mercedes Lackey and reading newspaper comics like Bill Watterson's iconic Calvin and Hobbes, Becky was introduced to the world of comics when her father let her read some of his comics, such as Silver Surfer, when she was young. "As soon as I was old enough to drive, I went to the comic store pretty regularly," says Becky, who's earlier trips to the comic store provided her with two key inspirations that would help pave the way to her working in comics. The first of these was the famous superhero series X-Men, whose strong female characters like Storm held an instant appeal for her. The second came from what was at the time a lesser-known source: manga, specifically the work of Rumiko Takahashi. "The slapstick of Ranma 1/2 and Maison Ikkoku resonated with me much like the Sunday comics did," says Becky, describing one of the hooks that pulled her into manga. "Then I discovered that it was drawn by a woman, which was pretty rare in the early 90s. When I discovered that there was a country of women drawing comics, it really opened my eyes." She isn't hesitant to credit manga with giving artists such as herself the chance to show their skills on a bigger stage, saying that the popularity of manga is one of the biggest reasons that comics is now "anybody's game," and that finding work in the industry is now more about how diligent you are instead of which gender you hail from.

East Coast Rising!
After her love for manga and comics inspired her to refine her style through high school, Becky was certain that a life working in comics is what she wanted - despite the hurdles that would come with it. She enrolled in the School of the Visual Arts (SVA) in New York City, majoring in animation. Prior to and during her time at SVA, she worked on her own titles, experimenting with shorter, one to ten-page long short tales that focused less on plot and more on evoking a response from the reader. Her first foray into self publishing, a 24 page story called Something Perfect, examined the life of a disillusioned boy who learns how to fly in order to escape his troubled life. "It was pretty deliberate and heavy-handed, so it's a little embarrassing," admits Becky, "but it shows how I was trying to push my work in new directions, and I took the task of making a mini comic very seriously." By the time she was attending SVA, the things that influenced her work became more diverse as well. She took an interest in film, particularly older German expressionist films such as the Fritz Lang sci-fi classic Metropolis. "I was looking at how directors balanced frames and perspectives," says Becky. Taking her experience with Something Perfect into account, Becky decided that more practice and experience would be what got her foot in the door of the publishing world before anything else. Ready to take a chance on her dream career, she left SVA early to seek a future working in comics.

Concert Poster
After more than seven years of working in the comics industry, it should come as little surprise that Becky's style is not as easy to pin down as it may have been when she was starting out. As someone who works primarily in sequential art and comics, thumbnailing a story out in advance is the first - and sometimes most crucial - stage in her design process, as she works to make sure none of the panels on the page are wasted. "Sometimes a scene that works well in the script ends up differently when I draw it out, so there's a lot of working and re-working different angles and scenes, trying to find the best way to tell the story," says Becky. "At this stage, every choice you make will close a thousand doors and open a thousand more." Considering how many titles she has worked on, it comes as no surprise that she was quick to list off some of the questions she considers when bringing a page to life. "With comics you have to think abut so many things," Becky explains. "Did I choose the right angles? Is this the most effective layout? Is my page balanced? How do the pages look next to each other? How does the page turn effect the story? Are my characters well developed? Is my art consistent? Am I engaging my reader? Is the acting believable? And the dialogue…? The list goes on and on. As a cartoonist you have to be a good writer, artist, actor, and storyteller." One pitfall that Becky admits she fell into when starting out mirrors a phenomenon that many other artists deal with: trying to create a story that is so epic in nature that it is difficult - if not impossible - to complete. "I'd bite off more than I could chew," Becky recalls. "We live in a world of comics that just keep going - we are conditioned to think long when we should actually be starting simple. Back when I was getting started, I'd start these epic stories with visions like, 'Oh snap, one day I'll have 30 volumes of this!' without realizing that I was utterly unequipped for creating a story of this magnitude." Her advice to artists just getting started? "For beginners, start small – get into habit of building a beginning, middle, and end."
Indeed, Becky's history in comics illustrates just how successful a shorter story can be, and how such stories can lead to bigger possibilities. After experimenting with her own work for a while, she began working with writer Brian Wood on the title Jennie One. The follow up, Demo, told a different story in each of its 12 issues, each of which dealt with young people facing issues of love, loss, and the ups and downs of life in a dramatic, almost seinen style form of storytelling. "There are different inspirations for each story," says Becky, discussing the sources of inspiration behind the stories in the series. "For example, the fourth issue, 'Stand Strong,' was about strength, so I looked at old propaganda posters that really convey ideas of strength and power when coming up with the visuals. These were really striking images, and I wanted to bring that impact into the story." Although the title was produced by a small indie publisher, it was not long before Demo was embraced by critics, who praised the storytelling and human aspects of the series of tales. The series would earn Becky her first Eisner Award nomination, as well as the attention of larger publishing houses (including DC Comics imprint Vertigo, which compiled the first 12 issues of Demo into a single volume in 2008 and have signed Becky and Brian to produce a "second volume" of the series). "We've done several hundred pages together," says Becky when describing her work with Brian. "He breaks the story down into scenes and pages for me, and it's easy to tell where things should be broken up. He's open to my ideas also, if I feel like I need to add extra pages or change some of the shots, I run it by him. We work together really well!" Following the success of Demo, Becky became a recognized name in comics circles, and it wasn't long before a few other opportunities came her way. The first of these was American Virgin, a mature, at times violent tale written by Steve Seagle about a popular teen evangelist and sworn virgin who goes from doing bike tricks at youth group events to trying to find the people who killed his girlfriend during a Peace Corps mission overseas. Becky was also approached by Tokyopop, which offered her the opportunity to publish her own story. The result of this deal was East Coast Rising!, a pirate fantasy set off the coast of New Jersey in the future. Although the title was put on hold after one volume due to Tokyopop's financial troubles, Becky hopes that the second volume will be able to make it to press in the future.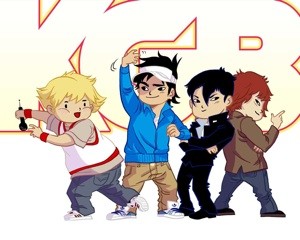 KGB
While many people might expect someone who has found work with a larger publisher to stop exploring the option of self-publishing, Becky has done the opposite, opting to publish work independently with friends when she feels like the material is worth the attention. Ironically, such work would help Becky achieve a level of success usually reserved for larger publishers. In 2007, she teamed up with Fábio Moon, Gabriel Bá and Vasilis Lolos (along with illustrations by Rafael Grampa) to produce a self-published anthology simply called
5.
In spite of being self-published, the work garnered attention quickly, and the volume was nominated for an Eisner Award, pitting it against publications by larger companies. In the end,
5
was triumphant, earning Becky and her cohorts the award for Best Anthology. "We did this book completely on our own, and totally for fun; there wasn't anything behind it except our love for comics," says Becky, describing how
5
came to life. "I didn't think we'd have a chance, so when they said
5
won, I didn't believe it – everybody jumped up, yelling – but I couldn't hear, it was like the sound was blanked out and everything was in slow motion." Since then, Becky, along with Fábio, Gabriel and Vasilis, continued their own works with a series of horror stories called
Pixu
(pronounced
pee-shoo
). Although the four artists all have different styles, they decided to produce the series in two unified shades of grey so things blend together well. Of course, their efforts have not gone unnoticed, and now
Pixu
is published by
Dark Horse
instead of in-house. However, that doesn't mean that Becky still isn't publishing independently. In an effort to explore her artistic roots and have fun, she's currently working with long time friend and art cohort Hwan Cho on a weekly comedy webcomic about a Korean boy band called
KGB.
Although Becky took a bit of time off recently to preserve her sanity, she hasn't hesitated in getting back to work: she's currently working with Brian Wood again on new issues of Demo, while a future collaboration with Gerard Way on a series called The True Lives of the Fabulous Killjoys is also in the works. Ironically, Becky's current list of projects include a short story for an anthology called Nation X, dedicated to the X-Men series that inspired her when she was first getting into comics. Looking back, although there are a few things she would admittedly do differently, Becky is the prime example of someone who, despite the work involved, is clearly ecstatic with what they do. Recently, she worked with other American manga artists on a collaboration for Japanese audiences sold at Comitia, which also gave her the chance to witness the culture that created some of the work that inspired her early on. Her advice to other people from the manga fan community that are artists? "Remember that it's not all about design," says Becky. "I think people get caught up in visuals – especially in manga, where people can be more concerned abut costumes than character development. When I start a new story, before I even think of characters, I always think of theme, story, and build the characters to help facilitate that, so the characters develop as I write it out. When I start a new comic, it takes about a year to develop before I'm comfortable drawing it." When asked when we might see some of those stories again, Becky told me that it may be a few more years before the next one. In the meantime, her patience and hard work serve as a fine example to other artists in the community that if you are patient and passionate, breaking into the business isn't just a goal - it's simply another hurdle you can clear. Becky Cloonan has cleared that hurdle, and the comics world is all the better for it.


---


Wolves
ANN: In American Virgin, you and Steve Seagle teamed up to tackle themes like religion and temptation. What kind of things did you refer to (research, etc.) to develop the visuals for bringing this gap between Christian "youth group" culture and American sub-culture to life?
Becky Cloonan: When we were working on this book we were always passing news clippings back and forth of anything we could find relating to this. I'm pretty much a heathen, so this helped a lot in finding ways to relate to Adam, the main character, and what he was all about. I went for a late 90's skate punk feel to it, and after a few issues things kind of fell into place.

ANN: You mentioned that film, specifically German expressionist film from the 20s, has been a huge inspiration on your work. How do you think this influence carries into your work in terms of camera angles, character positioning, and background? What kind of film would you suggest to an artist seeking to improve the use of perspective and depth in their work?
Becky: My time as an animator and story board artist trained me to think in a certain way, and since then I've approached comics in a similar manner. When I watch a film, or TV show or commercial, I try to be aware of each shot, and think about why that particular angle was chosen to help facilitate the story. I can't recommend anything specifically because I'm not sure this approach would work for everybody, but it can't hurt to try and consciously think about movies as you watch them, focusing on each shot and how it affects the flow of the story.
ANN: Let's talk a bit about Wolves and I See The Devil in My Sleep. As a writer and artist, what do you think are the most important things to keep in mind when bringing the "anti-heroes" of tales like these to life? How did the personal demons of these characters shape how you designed them?
Becky: My favorite characters are always anti-heroes. There's something appealing to me about bad guys with good qualities, and good guys that have serious issues. It's important that these characters are developed enough that the readers can understand the different facets to them, but each story has different needs so I'm not usually approaching them in the same way. I See The Devil in My Sleep was a short story about a serial killer, but I wanted to show it from the angle that he was a normal man who was haunted by a demon. Wolves developed a lot differently, and was actually a warm up comic for a longer story I want to do in the future, so with that story I was playing around more, and leaving a lot up to interpretation.
ANN: Could you walk us through how you and Hwan typically develop your weekly episodes of KGB? What do you think are some of the challenges that a webcomic format presents for a story such as this one?
Becky: Hwan lives a few blocks from me, so on weekends we get together and discuss plot, do thumbnails and trade pages, so that we both end up doing everything! It's an organic process and it's a lot of fun, plus since we both work a lot, having two people on the comic cuts the work in half. The biggest challenge I ran into was that I'm used to drawing a comic that the reader will sit down and finish in one sitting- with a webcomic, we update once a week- so the page has to be good as a stand-alone piece, but it also has to read fluidly in the archives. It's a little tricky to get used to, and we have to think a lot about the layouts for each page. Timing is also hard to get used to. Since we only do one page a week, that means that it might take the reader 6 months to read 24 pages, but in those 24 pages maybe only a few days has passed in the comic. It's a lot to take into consideration, and it's very challenging, but we really enjoy it.
ANN: It is safe to assume that many artists in the fan community are aiming for a lot of the milestones you have hit - publication, recognition, and so forth. Do you think that these are reasonable goals for artists to be aiming for, or should they be focusing their energies elsewhere? What kind of character traits are most crucial to an artist working for a living, as you are?
Becky: Starting simply is a good way to go, setting small goals for yourself will eventually lead you to bigger ones that might seem out of reach at first. I think self-publishing either in print or on the web is a realistic goal that almost everybody can achieve, and going to conventions to meet other artists and editors and writers is a great way to connect to people. There's no magic formula, and everybody I know has made a career in very different ways, so I think the best advice I can give is to focus on your work, set small goals, and see if there are any art events in your town or city you can attend to meet people in your community. The three most important things I've found as a freelancer are being a good and versatile artist, being a fast and reliable artist, and knowing people in the industry you belong to. Also, if you are going into comics, make sure that you really, really love them - the pay isn't always good and the work is usually grueling; if you don't love it you might go crazy (laughs).
---
If you'd like to check out more of Becky's work, you can start from her official site here. Her Deviant Art account is here, and she also maintains an art blog.
To purchase Becky's published work, check out her Amazon page here. If you want to check out the misadventures of KGB, the homepage for the comic is where to go.
---
Are you an aspiring manga artist looking for some extra page views? Do you have a friend or loved one who draws extremely good original manga but needs a boost? Don't just sit there! Submit two links to your work, including one original piece (no file attachments please! File attachments will be stuffed into turkeys and roasted), to evan [at] animenewsnetwork dot com, and you could be featured in a future Gallery column!
All works © Becky Cloonan.
---
discuss this in the forum (7 posts)
|