The List
8 Interesting Uses of Western Historical Figures
by Lynzee Loveridge,

I rocked out to Ozzy Osbourne's Prince of Darkness album all morning to prepare for writing this column. The reason will make sense the more you read, but mostly I'm excited to flex some history brain muscles this week. Historical figures are high on my list of interests, second only to foreign foods and notorious serial killers and the latter crosses over a bit this week. Of course, it's rare that anime depictions of these characters stay true to their real lives; they're cybernetic wizards or forbearers of doom. So, mind your step for spoilers. Also, a quick shout out to my friend Brittany S. for putting together the graphics for the column this week. And, with that, I offer you some of anime's most interesting uses of Western historical figures.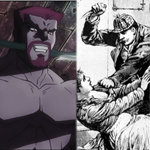 8. Jack the Ripper (JoJo's Bizarre Adventure) England's notorious Victorian serial killer debuts as a minor villain in episode four of JoJo's Bizarre Adventure. After finishing up his prostitute killing spree, the killer is recruited by Dio and transformed into a vampire. Using his new amazing strength, he slaughters an entire stagecoach before hiding in the corpse of one of the horses. There, he corners JoJo and his crew but proves to be nothing compared to JoJo's Ripple attack. Similar to rumors that Jack the Ripper used a series of specialized knives to attack his victims, Vampire Jack can grow blades from his body and use them to attack.






7. Eva Braun (Qwaser of Stigmata) Qwaser of Stigmata's Eva Silver bears little to no resemblance to Hitler's amour, Eva Braun. While Braun was deeply dedicated to Hitler romantically, she wasn't a member of the Nazi party, instead living a sheltered life to the horrors going on around her. Her anime incarnation takes a turn to the sadistic. Silver controls the element of Mercury, using it to ruthlessly kill others and torture her clones. She postulates that her cloning and assimilation abilities fulfill the Nazi ideology of creating a supreme being.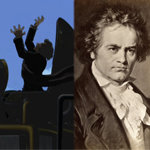 6. Ludwig van Beethoven (Read or Die) As the Read or Die OAV plot unfolds, we learn that artificial humans based on DNA from the cream of the historical crop are attempting to wipe out mankind by playing a "Suicide Symphony". The symphony was written by Beethoven himself, coded within his Immortal Beloved letter and his artificial clone will perform it as well. The ROD Beethoven and his real-life counterpart have very few things in common beyond the ability to play the piano and writing the Immortal Beloved letter. The real composer was known for his flares of temper, but wasn't known to, you know, wish for the destruction of the human race.







5. Fritz Lang (Fullmetal Alchemist the Movie: Conqueror of Shamballa) Austrian-American filmmaker Fritz Lang had a reputation for being difficult to work with and downright abusive to his actors. He filmed Metropolis in Germany before fleeing the Nazi regime for Paris and, later, the United States where he'd champion the noir genre. In Fullmetal Alchemist the Movie: Conqueror of Shamballa, Lang is reinvented as a parallel world counterpart to Pride's genetic base. He remains a filmmaker true to his roots, including his disdain for the Nazi regime. His wife in the film shows sympathy for the party, paralleling his real-life wife Thea von Harbou, whom he would later divorce for that very reason.








4. Alexander the Great (Fate/Zero) The Fate/Stay Night game and its related spin-offs include all manner of heroes, some mythological and others, like Fate/Zero's Rider, based on real people. Rider is easy to love for the qualities he exhibits in the series as the King of Conquerors. He's rather eccentric but proves himself loyal and brave, thereby bringing out the best in his Master. His appearance, on the other hand, is pretty far and away from most accounts of Alexander but even the series acknowledges this. Rider's set of divine bulls, supposedly a gift from Zeus, are directly tied to the real man's claim of descending from the god himself.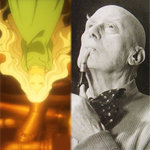 3. Aleister Crowley (A Certain Magical Index) A Certain Magical Index borrows many real elements from Aleister Crowley's life, including The Book of Law, speaking with a being named Aiwass, and previously belonging to The Hermetic Order of the Golden Dawn, an occult church whose real-life purpose differs from those presented in the light novels. The real Order of the Golden Dawn (and for those of you who like conspiracy theories, it was founded by Freemasons) died out in the 1970s. The character is the mastermind behind many of the series' events and ruler of Academy City while living in a state of pseudo-death. His anime counterpart is far more attractive, but Mr. Crowley remains a magick pop culture icon to this day, getting himself kicked out Italy by Mussolini, spying for the British government, and causing chaos wherever he went, inspiration for a lot of his bishonen counterpart's actions.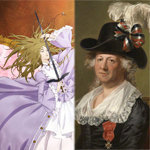 2. Chevalier d'Éon de Beaumont (Le Chevalier D'Eon) Charlotte-Genevieve-Louise-Auguste-Andree-Timothee d'Eon de Beaumont was a French diplomat and spy from 1756 into the late 1700s. Initially born as Charles, Chevalier Beaumont first began living as a woman named Lea when she crossed over into Russia as part of her spy work. She would later declare that she was born female and live openly as a woman until her death. Le Chevalier D'Eon re-imagines Chevalier Beaumont's life as two people, a sister named Lea and a brother, D'Eon who is possessed by her spirit. The anime is one take on the idea, but I'd still rather see a transgender diplomat blackmail the French government, force it to acknowledge her sex, and pay for a brand-new wardrobe.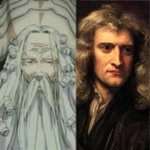 1. Sir Isaac Newton (Vision of Escaflowne) Emperor Isaac Dornkirk is a scientist time traveler from Earth that "discovered" gravity and related forces. His ability to see into the future allows him to sculpt Gaea to his wishes and he's created a variety of machines to do so, including those keeping him alive. He dabbles in alchemy, something that Sir Newton spent considerable time researching, even more so than his scientific works. This includes documented writings on Atlantis (which is also a theme in Escaflowne), the Apocalypse in 2060, The Philosopher's Stone, The Elixir of Life, and "proof" that minerals are sentient. Many of these writings were kept under wraps as some of the sentiments could have gotten the scientist hung by the government.






The new poll: The Winter anime season premieres in a few short weeks and it seems like a big one with a lot more series than are typical for the usually smaller, winter season. Japanese viewers already weighed in on what shows they're looking forward to in the BIGLOBE poll. What series are you looking forward to most?
The old poll: The Sengoku Era (Warring States) period anime is the reader's favorites. Many lamented the exclusion of Inuyasha. While Inuyasha is set in the same time period, it lacks the character staples of the Sengoku Era. That said, we had a really close one this week with Sengoku Basara beating out Samurai 7 by .2%, or literally, TWO VOTES. Here's the full poll results:
Sengoku Basara: Samurai Kings 22.3%
Samurai 7 22.1%
Sword of the Stranger 14.6%
Oda Nobuna no Yabō (The Ambition of Oda Nobuna) 11.6%
Basilisk 10.5%
Samurai Deeper Kyo 7.9%
Brave10 4.2%
Hyouge Mono 2.0%
Shura no Toki: Age of Chaos 1.8%
Battle Girls - Time Paradox 1.7%
Sengoku Collection 1.4%
Sengoku Paradise Kiwami 0.1%
---
Alright everybody, see you all next week! I look forward to your input in the comments and feel free to follow me on Twitter @ANN_Lynzee.
---
discuss this in the forum (61 posts)
|