Metal Fight Beyblade VS Taiyō Shakunetsu no Shinryakusha (movie)
© Takafumi Adachi, MFBBProject, TV Tokyo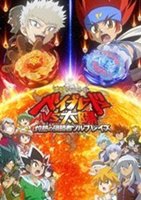 Alternative title:
Beyblade, le film (French)
Metal Fight Beyblade the Movie: VS the Sun; Sol Blaze, the Scorching-hot Invader
劇場版メタルファイト ベイブレードVS太陽 灼熱の侵略者ソルブレイズ (Japanese)
Plot Summary:
It's summer vacation. In front of Ginga an Co, who are excited about a Beyblade tournament, Helios, a mysterious youth, stands in their way. In his hands, he possesses "Sol Blaze", a Beyblade that has been passed down since ancient times. As intense battle between Ginga vs. Helios unfolds, extreme weather develops throughout the world.
Premiere date:
2010-08-21 (Japan)
Ending Theme:
"SPINNING THE WORLD" by Noa
You can contribute information to this page, but first you must login or register
Japanese staff
Japanese cast





Japanese companies

French staff
French companies

(none)


French cast

(none)

This encyclopedia is collaboratively edited by the users of this site
# A B C D E F G H I J K L M N O P Q R S T U V W X Y Z
Anime anthology