Tail of Two Sisters (OAV)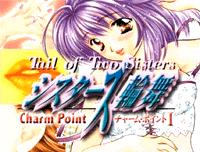 Alternative title:
Charm Point 1: Sister's Rondo
Sister's Rondo
シスターズ輪舞 (Japanese)
チャームポイントⅠ ~シスターズ輪舞(ロンド)~ (Japanese)
Objectionable content:
Pornography
Plot Summary:
Two sisters attend the same college, one as a teacher and one as a student. Both of them, however, date college boys the same age. The younger sister has a big problem, because her boyfriend never seems ready to satisfy her. Her older sister's trouble is just the opposite.
User Ratings:
26 ratings have been given [details]

 Very good: 1 vote

(sub:1)

 Good: 7 votes

(sub:6, dub:1)

 Decent: 9 votes

(sub:8, ?:1)

 Not really good: 2 votes

(sub:2)

 Weak: 3 votes (dub:1, sub:1, others:1

1 Russian dubbed

)

Seen in part or in whole by 65 users, rank: #4594 (of 7090)
Median rating: Decent
Arithmetic mean: 5.538 (Decent−), std. dev.: 1.6227, rank: #5950 (of 7102)
Weighted mean: 5.662 (Decent−), rank: #5803 (of 7102)

(seen all: 5.66)


Bayesian estimate: 6.280 (Decent+), rank: #4220 (of 5354)

Comment:
Bundled with
Midnight Milk Party
in Media Blasters/Kitty Media's
Kitty Pleasure Pack #1
DVD release.
You can contribute information to this page, but first you must login or register
This encyclopedia is collaboratively edited by the users of this site
# A B C D E F G H I J K L M N O P Q R S T U V W X Y Z
Anime anthology