News

18-Meter Lifesize Gundam's 'Making-of' Video Streamed

posted on by Egan Loo
1st weekly journal on creation of statue to mark anime's 30th anniversary
---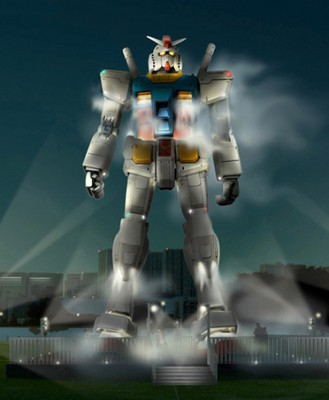 Not-So-Daily Link of the Day: The Yahoo! Japan website has posted the first free four-minute video of the making of the 18-meter-tall (59-foot-tall), "life-size" statue of the title robot from the Mobile Suit Gundam space war anime series. (The video requires Microsoft's Silverlight browser plugin.) The website will eventually update with a new video every Thursday until July 23, although the next video will be added on May 7, and the schedule is subject to change.
The first video, "For the next step," discusses the genesis of the project to mark the 30th anniversary of the first Gundam series. Gundam creator Yoshiyuki Tomino was involved in the initial process and visited the site during construction. The final section of the first video episode is a time-lapse video of the statue's onsite construction from March 31 to April 3. The next video will focus on the internal frame.
Starting this July, the statue will be available for free public viewing for two months at the Shiokaze Park on Tokyo's artificial Odaiba island. The theme of the three-phase Mobile Suit Gundam 30th Anniversary Project is "Always Beginning." The life-size Gundam represents the "Real G" phase of the project, while this August's Gundam Big Expo convention represents the "Feel G" phase. "Soul G" will be a collaborative music event planned for the Gundam franchise this year.
Source: Phile Web
Image © Sotsu, Sunrise via Mainichi Shimbun's Mantan Web
---