News

Singer Namie Amuro Turned into Tatsunoko Character

posted on by Egan Loo
Gatchaman
anime studio's design put on Coke zero cans, cookies, phone screens
---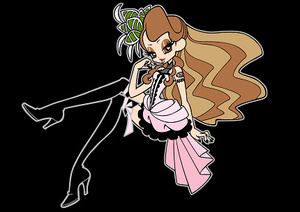 Not-So-Daily Link of the Day: The famed anime studio Tatsunoko Production has launched a project to turn singer Namie Amuro into a "Tatsunoko-esque," "anime-like" character. The collaborative project's illustrations will adorn items that will be sold during Amuro's latest concert tour, and they will also be used for mobile phone content. The studio collaborated with Amuro's talent agency, Vision Factory, on the "Amuro Meets Tatsunoko!" project.

Starting on Thursday, the "Namie Amuro Past < Future Tour 2010" event venders and Vision Factory's website are selling 12-packs of "Namie Amuro Original Coca-Cola zero" and "Tatsunoko Production x Namie Amuro Collabo-Cookie" sets. Starting next month, Vision Factory's official mobile website will also release a "kisekae" (customization or literally, "dress-up") kit. With the digital kisekae kit, users can put the character on their phones' standby screens, menu screens, and incoming-call screens.

Tatsunoko created Gatchaman, Yatterman, Hutch, the Honeybee, and many other classic television anime series. Another popular anime studio, Sunrise, had worked with Kamikaze Douga and Telecom Animation Film to animate Amuro in the 2009 music video for the "Defend Love" single from her Past < Future album. In the video, Namie Amuro meets another Amuro — Amuro Ray, the main character of the Mobile Suit Gundam anime franchise. Kamikaze Douga, Sunrise Ogikubo Studio, and Studio Jack animated an earlier music video for her "Dr." song.
Source: ITmedia News
---