News

NY Comic Con to Debut Kono Danshi, Uchū-jin to Tatakaemasu. Anime

posted on by Egan Loo
Alien invasion/teen story by 21-year-old auteur
Soubi Yamamoto
to run on Saturday
---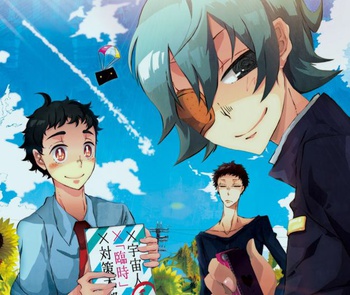 The Japanese production company CoMix Wave Films will hold the international premiere of auteur director Soubi Yamamoto's new Kono Danshi, Uchū-jin to Tatakaemasu anime at New York Comic Con on Saturday. In the 21-year-old writer/director's story, aliens suddenly invade the world, and a boy named Kakashi stands alone with the power to fight back against the aliens — except he lost his memories.
Yamamoto was inspired to work in anime from watching Makoto Shinkai's 2002's Voices of a Distant Star when she was a 15-year-old in middle school. (Not coincidentally, CoMix Wave Films released many of Shinkai's works.) Before Kono Danshi, Uchū-jin to Tatakaemasu, Yamamoto directed the opening sequences and promotional videos for boys-love dōjin games and the iPhone app Rōdoku Shōjo.
The new anime stars Ryohei Kimura (Eden of the East, Natsume Yūjin-Chō) as Kakashi, Toshiyuki Toyonaga (Katekyo Hitman Reborn!, Durarara!!) as an Special Alien Countermeasures Headquarters member named Arikawa, and Daisuke Hirakawa (Gankutsuou: The Count of Monte Cristo, School Days) as Arikawa's strict superior and Kakashi's guardian Shiro. The project features a theme song by Akiko Shikata (A Dark Rabbit Has Seven Lives, Umineko no Naku Koro ni), whom Yamamoto personally requested to work on the project.
The 28-minute anime will run before New York Comic Con's Masquerade at 8:00 p.m. on Saturday in the IGN Theater. CoMix Wave Films will release the anime on DVD in November, after the character store chain Animate hosted a special point card campaign for the anime last month.
Image © Soubi Yamamoto/CoMix Wave Films
---