News

Baka and Test S2 Released Monday

posted on by Andrew Osmond
Also, 'definitive' edition of
Eden of the East
on DVD and Blu-ray, and live-action Korean
Antique Bakery
.
---

Manga is releasing season two of Baka and Test - Summon the Beasts (Baka to Test to Shōkanjū) on Monday February 11. Based on Kenji Inoue's fantasy-comedy light novels, the story centers around Akihisa Yoshii, the "baka" of the title. He is in F class, the lowest rung of the school ladder. The school has developed experiments to summon fantasy creatures, and Akihisa decides to rally F class to take on the higher-tiered classes and seize their perks. Monthly Shonen Ace runs the manga adaptation of the novel series, which Enterbrain has published since 2007.


Manga is also releasing a "Definitive" edition of Kenji Kamiyama's political comedy thriller Eden of the East on both Blu-ray (pictured left) and DVD. It will contain the original Eden of the East TV series, plus the compilation film (Higashi no Eden Sōshū-hen Air Communication), and the two film sequels (Eden of the East: The King of Eden and Eden of the East: Paradise Lost).
Terracotta is releasing Antique Bakery, a Korean live-action film based on the manga of the same name, on February 11. In the story, based on the manga by Fumi Yoshinaga, four handsome men run a small bakery. The characters include two classmates (one of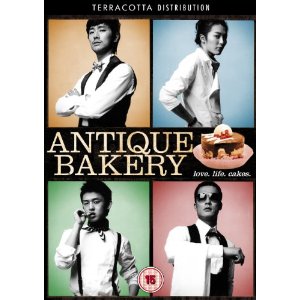 whom has an unrequited crush on the other), an ex-boxer and a guard who is worried about a killer on the loose. The film is directed by Min Kyu-dong. The manga was adapted into a 12-part anime series in 2008 (shown in the Noitamina strand, following a live-action Japanese TV drama in 2001.
---