News

Sayonara, Zetsubou-Sensei's Kumeta Starts Sekkachi Hakushaku to Jikan Dorobō Manga

posted on by Sarah Nelkin
Shonen Magazine manga about mismatched trio aiming for one goal for different reasons
---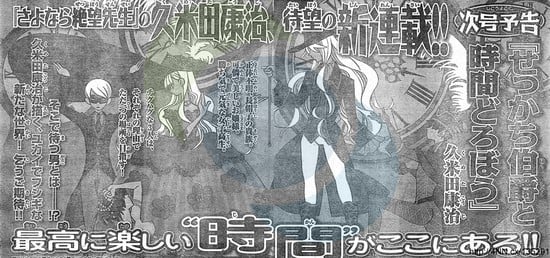 This year's 48th issue of Kodansha's Weekly Shonen Magazine is announcing on Wednesday that Koji Kumeta (Sayonara, Zetsubou-Sensei, Joshiraku, The Eccentric Family character design) will begin serializing a new manga in the following issue on November 6. The magazine's preview describes the manga, titled Sekkachi Hakushaku to Jikan Dorobō (The Impatient Count & the Time Thief):
An unknown, tall-hatted noble. A lovely and beautiful high-class lady. A competitive and energetic high school girl. These three mismatched people each aim for one place, each with different reasons. Who is the man who waits for them there? Koji Kumeta writes a new world filled with glee and wonder!
The editor for Kôji Kumeta's Joshiraku manga announced last month that Kumeta would start a new manga on November 6. The sixth and final volume of Joshiraku will ship on November 8. Joshiraku ended on September 9.
Weekly Shonen Magazine had reported last December that Kumeta would start a new manga series in the magazine. He ended his Sayonara, Zetsubou-Sensei manga in the same magazine in May 2012, then drew a one-shot manga in the Shitauke Tantei Nokori Kazuhiro Series in the magazine last December.
---