News

Final Fantasy III for PC Listed by German Ratings Board

posted on by Andre Pappas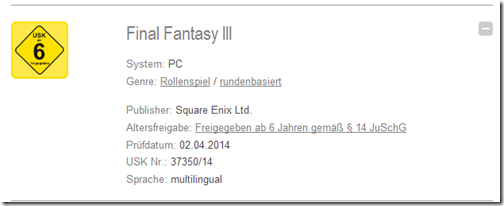 German video game regulation body USK revealed parental advisory information for a PC version of the Final Fantasy III role-playing game. Final Fantasy VII and Final Fantasy VIII have received PC ports, but a PC version of Final Fantasy III has not been officially announced.
Square originally released the game for the Famicom (Nintendo Entertainment System) in Japan in 1990 and it debuted outside Japan with a remake for the Nintendo DS in 2006. Final Fantasy III has also received releases for PlayStation Portable as well as iOS and Android devices.
[Via Siliconera]
---