News

14th Animator Expo Short 'Sex and Violence with Mach Speed' Streamed

posted on by Crystalyn Hodgkins
---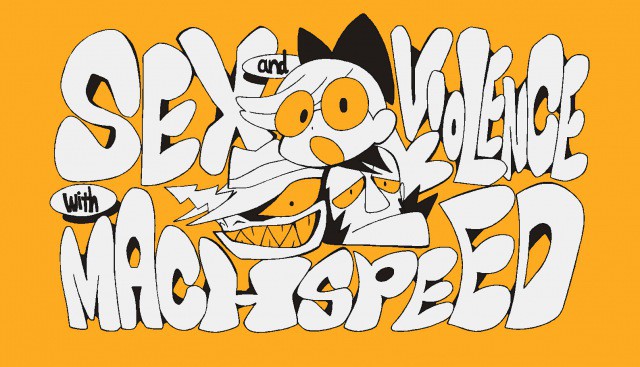 Japan Animator Expo, the project of weekly anime shorts from Hideaki Anno's studio Khara and the media company Dwango, began streaming the full 14th short film "Sex and Violence with Mach Speed" on Friday.
Editor's Note: The short is not safe for work.
Studio Trigger's Hiroyuki Imaishi directed the short, and Shigeto Koyama and Hiromi Wakabayashi are credited with the design and story draft.
The summary reads: "A dog named Matt has a serious sexual problem. He decided to visit a detective agency known that there is a most beautiful woman in a town..."
This season's shorts include:
"I can Friday by day!" by Kazuya Tsurumaki and Hajime Ueda (Daiou Ueda)
"Ibusekiyoruni" by Tadashi Hiramatsu and Ren Sakaki
"Ochibisan" by Moyoco Anno and Masashi Kawamura
"Obake-chan" by Shigeto Koyama
"Kanón" by Mahiro Maeda
"Guzou Sen'iki" by Ikuto Yamashita and Kazuhiro Furuhashi
"Sanbon no Shōgensha" by Satoru Utsunomiya
"SEX and VIOLENCE with MACHSPEED" by Hiroyuki Imaishi (TRIGGER)
"2 of killers of 2" by Kazuto Nakazawa
"Tsukikage no Tokio" by Goichi "Suda51" Suda (Grasshopper Manufacture) and Takanobu Mizuno (Kamikaze Douga)
"Bikachō Shinshi Kaikoroku" by Moyoco Anno and AЯTRA entertainment
"Hammerhead" by Ōtarō Maijō and Mahiro Maeda
Moyoco Anno crowdfunded Ochibisan, a stop-motion feature based on her The Diary of Ochibi-san (Ochibi-san) manga.
This season's previous short Kanón by director Mahiro Maeda began streaming on Monday.
Anno himself is serving as executive producer of the entire project initiative with Dwango President Nobuo Kawakami, and he also designed the image character mascot "(Tor)-kun." Ghibli co-founder Hayao Miyazaki created the title logo, and fellow Ghibli co-founder Toshio Suzuki colored it. The shorts mostly feature the voice talent of Ranma ½ and Cowboy Bebop co-stars Kouichi Yamadera and Megumi Hayashibara.
---