News

Live-Action Anata no Koto wa Sorehodo Series Adds Additional Cast

posted on by Karen Ressler
---
The official website for the live-action television series adaptation of Ryō Ikuemi's Anata no Koto wa Sorehodo manga announced additional cast members on Wednesday. The cast, including the previously announce main cast, includes: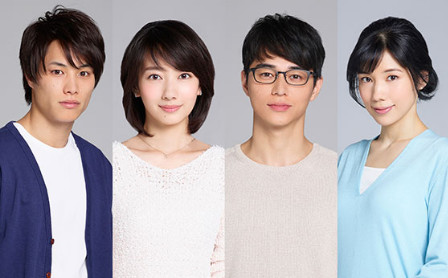 (From left to right in image above):
Nobuyuki Suzuki as Kōki Arishima
Haru as Mitsu Watanabe
Masahiro Higashide as Ryōta Watanabe
Riisa Naka as Reika Arishima
Additional cast:
Aya Ōmasa as Kyōko Iida
Shoko Nakagawa as Minami Yokoyama
Tomoko Kurokawa as Rumi Mori
Ishin Narita as Yūki Enomoto
Saburō Yamazaki as Shingo Odawara
Jun Hashimoto as Tsukasa Hanayama
Yumi Asō as Etsuko Miyoshi
Tomotko Yoshida is writing the series scripts.
The series will premiere on April 18 at 10 p.m. on TBS.

The story follows Mitsu, a woman around the age of 30 who is married to the second man she fell in love with. She begins having an affair with her first love, her former middle school classmate Arishima. Both of them are already married, and Mitsu's husband begins to suspect her.
Ikuemi first published the manga as a one-shot in the magazine in September 2010, and then launched it as a series in May 2011. Shodensha released the fourth compiled book volume on October 8.
Ikuemi has multiple ongoing manga series, including Watashi-Sora-Anata-Watashi and Taiyō ga Miteiru (Kamoshirenai Kara). Her Kiyoku Yawaku manga inspired a live-action film adaptation in 2013, and her Pops manga inspired an original video anime in 1993.
A North American release of Ikuemi's Itoshi no Nina (Nina, My Love) was listed under Tokyopop on online retailer Amazon in 2011 with a release date of December 2011, but Tokyopop closed its doors that April before any confirmation was given. JManga digitally distributed Ikuemi's Cousin manga in English before also closing its doors.
Source: Comic Natalie
---