News

Robot Girls NEO Net Anime Reveals More Cast, August 18 Premiere

posted on by Crystalyn Hodgkins
---
The official website of Dynamic Planning and Toei Animation's Robot Girls NEO net anime shorts revealed on Thursday that the anime will premiere on August 18. The anime will have three episodes, each seven minutes long. The show will stream on Animax's "Animax on PlayStation" streaming service.
The site also revealed three new cast members:
Rika Nagae as Gecchama Eagle (based on Getter Robo)


Kanon Narumi as Sister Hell


Additionally, Tetsu Inada will narrate the series.
The previously revealed cast includes:
Hina Kino as Z-chan (based on Mazinger Z)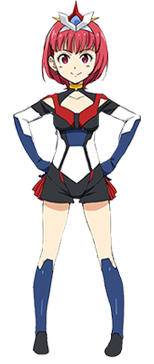 Ami Hagihara as Gre-chan (based on Great Mazinger)


Mikako Izawa as Gren-chan (based on Grendizer)



Poeyama is returning to direct the new anime at Toei Animation, and Kazuho Hyodo is returning to pen the scripts.
The new Robot Girls NEO anime is set in a ruined future Nerima, where a photon energy disaster is said to have devastated the area. No one knows whether that is true or not, and details are hard to come by. All that is left is the photon research facility tower that stands as a monument at the center of the devastation. Z-chan and Gre-chan live together in the Shutter District, which spreads from the base of the tower. Their home is made from salvaged materials that they have named Photon House. The advanced photon energy that flowed through the place is now gone, and the world is now ruled by the Getter Rays that rain down from space. But even now, Z-chan and Gre-chan use the highly efficient photon energy to power their home.
Robot Girls NEO anime is the latest incarnation of Toei Robot Girls, the project that turns Dynamic Planning and Toei Animation's "legendary super robots into beautiful girls!!"
Crunchyroll streamed the Robot Girls Z series as it ran in Japan in 2014. The television anime inspired a compilation movie in May 2014. Crunchyroll also streamed the Robot Girls Z+ net anime shorts as they debuted online in 2015. Robot Girls Z also inspired the "Fukkatsu no Chika Teikoku!? Robot Girls Z vs. Nazo no Sandai Shuyaku Robo!" (The Resurrected Underground Empire!? Robot Girls Z vs. the Three Mysterious Major Lead-Role Robots!) short anime that debuted last November at the "Super Robot Manga Matsuri Gaiyō" event.
Sources: Robot Girls NEO's website, Comic Natalie
---